Retail spending still bouncing to COVID beat
Retail trade
Retail trade: Retail trade fell by a record 17.7 per cent in April after rising by a record 8.5 per cent in March.
Retail trade data is important for consumer-focussed companies.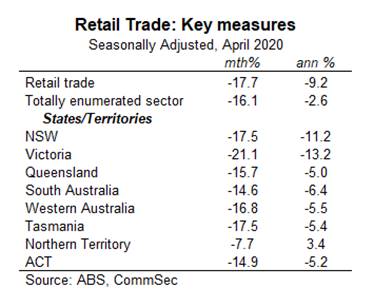 What does it all mean?
• Up one month, down the next. Panic buying of groceries led the record lift in March retail spending. Lockdowns and the subsiding of panic buying dragged spending lower in April. We won't get a true sense of what's happening in retail land for a number of months. In the interim, announcements from listed retailers should be watched carefully. And a guide to spending trends can be found in the weekly data from Commonwealth Bank on credit and debit card trends.
• Consumer confidence has lifted for nine straight weeks. And people are returning to work after lockdowns. More stores have re-opened after the lockdowns. And the JobKeeper and JobSeeker payments will support retail spending. So there are reasons for optimism for retailers.
What do the figures show?
• Retail trade fell by a record 17.7 per cent in April after rising by a record 8.5 per cent in March. Compared with a year ago, retail trade was down by 9.2 per cent.
• Non-food retailing fell by 17.9 per cent in April after falling 2.7 per cent in March. Sales are down 19.2 per cent on a year ago after being down 1.9 per cent in the year to March.
The Australian Bureau of Statistics wrote:
• "COVID-19 continued to affect retail trade in April with many retail businesses closing their physical stores during April due to restrictions relating to social distancing. There were record falls in cafes, restaurants and takeaway food services (-35.4 per cent), and clothing, footwear and personal accessory retailing (-53.6 per cent), as well as a large fall in department stores (-14.9 per cent)."
• Food retailing (-17.4 per cent) led the falls in dollar terms this month following unprecedented demand in March. Spending in food retailing remains 5.1 per cent above the level of April 2019, likely reflecting additional meals being consumed at home during April 2020. Other retailing (-14.4 per cent) fell after a large rise in March, while household goods retailing (-0.1 per cent) saw a minor fall in sales as falls from closures of some physical stores were offset by a rise in hardware, building and garden supply retailing.
• In seasonally adjusted terms, there were falls in Victoria (-21.1 per cent), New South Wales (-17.5 per cent), Queensland (-15.7 per cent), Western Australia (-16.8 per cent), South Australia (-14.6 per cent), Tasmania (-17.5 per cent), the Australian Capital Territory (-14.9 per cent), and the Northern Territory (-7.7 per cent) in April 2020.
• The closure of physical stores in some industries led to a rise in online retail turnover, which contributed 11.1 per cent to total retail turnover in original terms in April 2020, up from 7.1 per cent in March 2020. In April 2019, online retail turnover contributed 5.7 per cent to total retail. Additional analysis noted that online sales made up over 20.5 per cent of sales across household goods retailing, clothing, footwear and personal accessory retailing, department stores, and other retailing."
What is the importance of the economic data?
• The Bureau of Statistics' Retail trade publication contains the most current readings on the performance of consumer spending. The ABS surveys 500 'larger businesses' and 2,750 'smaller businesses'. Retail trade covers spending at a broad range of retail outlets but excludes both petrol and motor vehicle sales. A weak retail trade result may point to a slowing economy as well weighing on the share prices of listed retail stocks. But retail trade estimates can't be assessed in isolation – it is important to look at the influences determining future trends in consumer spending, such as income, employment and confidence levels.
What are the implications for investors?
• Retail conditions will remain choppy for some time. The successful retailers will be the ones that continue to put resources into the on-line segment. Aussie shoppers have embraced internet shopping through the lockdown period and we are likely to see a number of retailers adjusting their sales mix of on-line and 'bricks and mortar' segments. The property sector will be clearly interested in how retailing evolves.
• As the Reserve Bank notes, confidence is the key issue for the economy, especially with regard to the outlook for finances by consumers. Confidence hasn't been fully restored and indeed this will only be achieved when a 90 per cent state of 'normalcy' is achieved. So tough conditions will remain the norm for some time.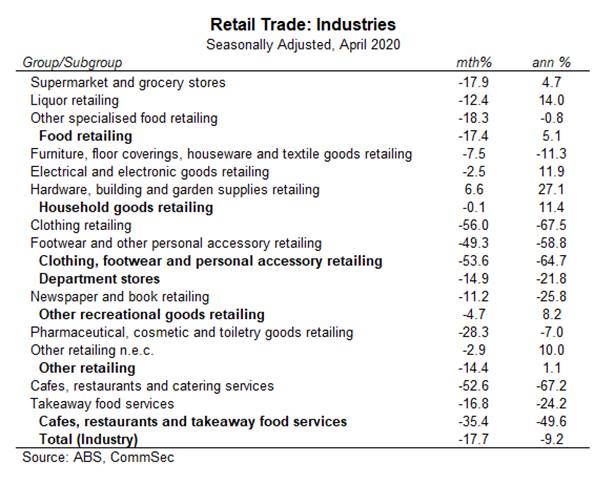 Published by Craig James, Chief Economist, CommSec