Petrol price: The end of $1 a litre?
Weekly Petrol Prices
Petrol prices: According to the Australian Institute of Petroleum, the national average price of unleaded petrol rose by 1.9 cents last week to 110.5 cents a litre.
Movements in the petrol price can affect consumer spending, and in turn, prospects for retailers.
What does it all mean?
• Have the days of petrol at $1 a litre come to an end? The wholesale or terminal gate price now stands at just over a dollar a litre. Add in the gross retail margin of 13 cents a litre and pump prices are likely to average $1.13 a litre in the near term. You may still find petrol below a $1 a litre in eastern or southern states at the height of the discounting cycle but you will have to search harder.
• Energy markets appear convinced that the worst of COVID-19 is over and that oil demand will strengthen as lockdowns lift. Last week Brent crude rose by 19.7 per cent and Nymex rose by 11.4 per cent before giving back around 3.5 per cent on Monday. Oil is trading near US$38 a barrel, up from the early to mid-20s a month ago, but still well below around US$60 at the start of 2020.
• Discounting cycles have now ended in southern and eastern states with prices in some capital cities lifting 30 cents a litre from the lows. The Sydney and Melbourne cycles ended on June 2; Brisbane on May 29; Adelaide on June 5. In most centres the advice is to top up rather than fill up.
• Petrol is the single biggest purchase for most families. The super-low prices have delivered extra spending power into household budgets.
What do the figures show?
• According to the Australian Institute of Petroleum, the national average price of unleaded petrol rose by 1.9 cents to 110.5 cents a litre.
• MotorMouth records the following average retail prices for unleaded fuel in capital cities today: Sydney 117.0c; Melbourne 116.5c; Brisbane 132.4c; Adelaide 131.5c; Perth 99.4c; Canberra 109.8c; Darwin 109.0c; Hobart 120.4c.
• The key Singapore gasoline price rose by US$7.50 a barrel or 20.2 per cent to a 13-week high of US$44.60 a barrel last week. In Australian dollar terms, the Singapore gasoline price rose by $8.00 or 14.4 per cent to a 13-week high of $63.71 a barrel or 40.07 cents a litre.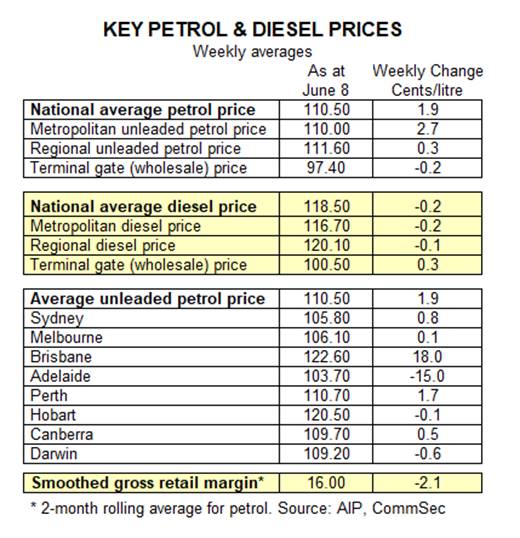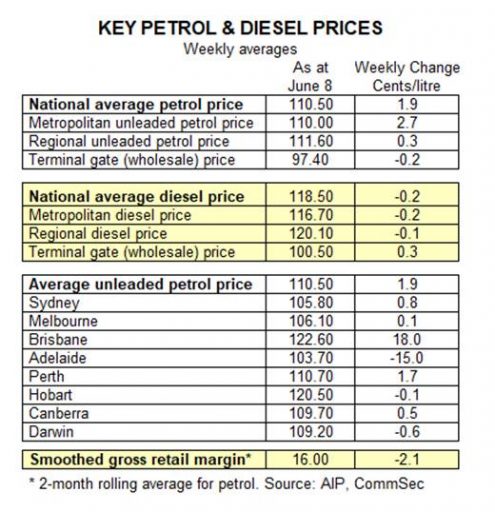 What is the importance of the economic data?
• Weekly petrol prices data are compiled by ORIMA Research on behalf of the Australian Institute of Petroleum (AIP). National average retail prices are calculated as the weighted average of each State/Territory metropolitan and non-metropolitan retail petrol prices, with the weights based on the number of registered petrol vehicles in each of these regions. AIP data for retail petrol prices is based on available market data supplied by MotorMouth.
What are the implications for investors?
• The lift in oil prices is good news for companies and workers in the energy sector but less positive for consumer discretionary stocks. The complication is a higher Aussie dollar, nearing 11-month highs. Good for the latter, less positive for the former.
• The good news though for motorists is that spending on fuel through the COVID-19 period is well down from 2019. Over much of last year, average weekly spending on petrol was in a range of $220-240 a month. But after touching $157 in early May, monthly spending has only modestly lifted to $177 a month.
Published by Craig James, Chief Economist, CommSec