As October dawned here in Australia, the once unthinkable came to pass – the RBA cut its cash rate to 0.75%, the first time in our history the rate fell below 1%.
The cash market is the market for unsecured, overnight loans between financial institutions.
Fixed Income investors who follow economic developments were not surprised, but some may not have expected the dire possibility that the worst is yet to come.
Unemployment remains a problem, prompting a statement from the RBA regarding the future of interest rates here:
"The Board will continue to monitor developments, including in the labour market, and is prepared to ease monetary policy further if needed to support sustainable growth in the economy, full employment and the achievement of the inflation target over time" going on to say "it is reasonable to expect that an extended period of low interest rates will be required in Australia to reach full employment and achieve the inflation target."
The Sydney Morning Herald is reporting a 100 per cent chance that the official cash rate will be 0.5% by February, according to the overnight lending futures market.
Although not likely, Business Insider Australia is reporting the RBA says we may end up at the zero-lower bound.
Zero-lower bound is the lowest level that interest rates can fall to. Right now Japan, Sweden, Denmark, and Switzerland have instituted negative interest rates, with former chairman of the US Federal Reserve, Alan Greenspan, claiming the US will ultimately follow suit.
For decades and longer many investors have shied away from the risk of investing in stocks, seeking instead the guarantees associated with fixed income investments.
The most common fixed income investments are bonds and term deposits, with bonds offering higher yields with more risk. Government bond yields in Australia are already below 1.0%, except for the 1.09% on the 15 year. Historically, bonds outperform term deposits, but over time stocks outperform bonds.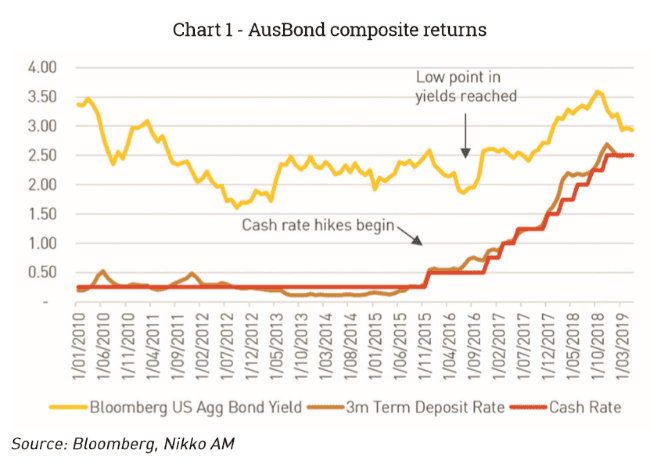 From the Westpac Banking website, the following graph compares equity investments with bonds and term deposits: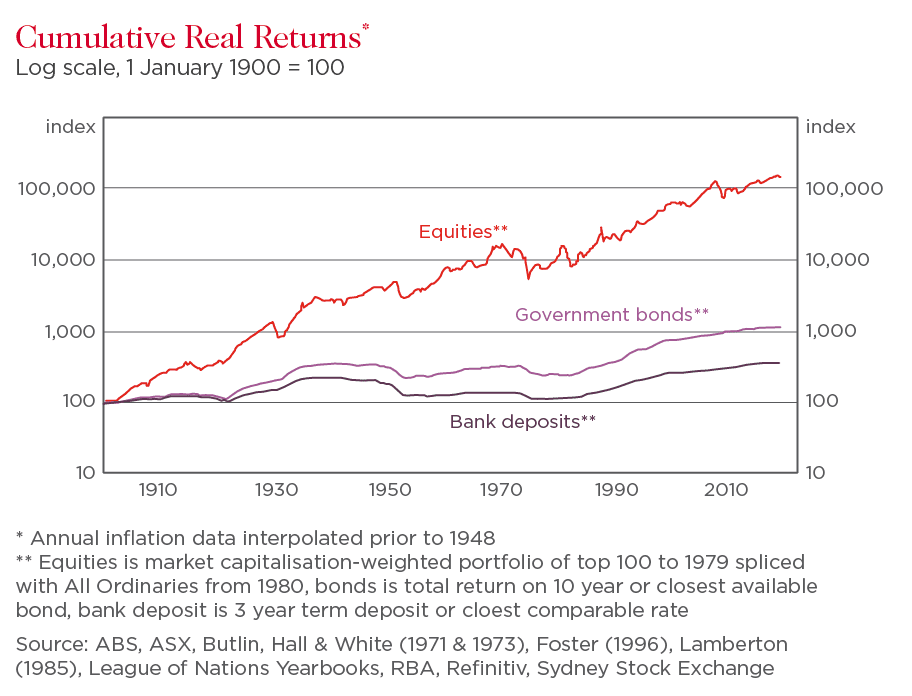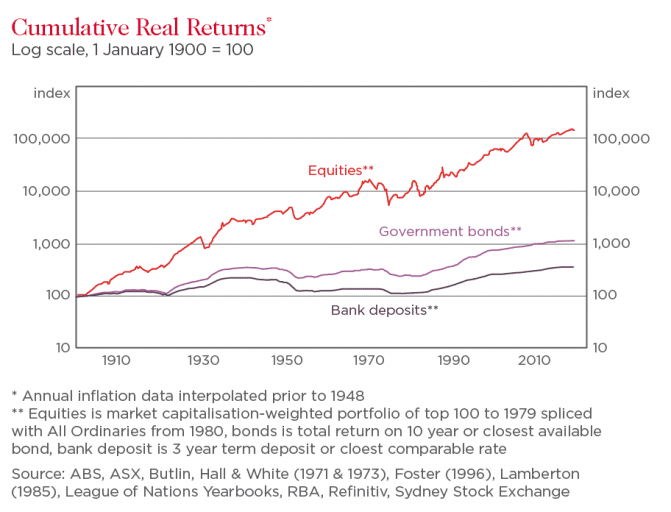 Most Fixed Income investors know some stocks pay dividends, often with higher yields, but shun them due to the assumed risk, but may not know some dividend payers are less risky than others.
Dividends are not fixed, with some companies increasing their dividend payments regularly, others remaining constant, and some cutting dividend payments or eliminating them altogether. Surprisingly, all dividend payment outcomes outperform non-dividend paying stocks, as seen in the following graph from an Oppenheimer Fund report on the company's Rising Dividend Fund.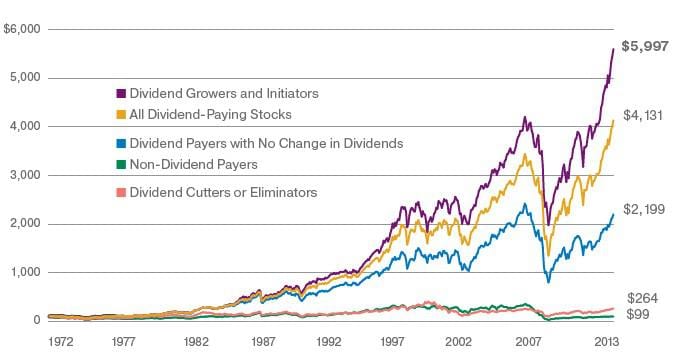 For many fixed income investors, the yield is the primary and sometimes only criterion guiding their selection, gravitating to bonds or term deposits with the highest percentage returns.
Equity investors should advise any friends, relatives, or business associates considering moving to dividend paying stocks that strategy is inadvisable when it comes to stocks.
The dividend yield of a stock is calculated by dividing the annual dividend payment for one share of stock by the price of the share. Stocks with mouth-watering yields of 10% or more are frequently stocks in trouble, with the declining share price increasing the yield percentage. Companies in trouble can and very often do cut dividends substantially or eliminate them completely until their situation improves.
Investors entering the world of dividend paying stocks should look for companies with a history of dividend payments and enough earnings to maintain those dividends. A key metric to consider is the payout ratio, which is the dividends per share divided by the earnings per share. Companies with very high payout ratios – approaching or over 100% — are suspect without some evidence of consistent and increasing earnings per share in the future.
In addition to considerations specific to an individual stock, the state of the economy as a whole and conditions within a specific sector of the economy should also be assessed for potential risk.
Uncertainty is perhaps the most accurate descriptor applied to the state of the global economy. The deteriorating situation in the US is of particular concern as global share markets often follow the lead set by US markets.
In the past week three metrics pointed to potentially troubling times ahead in the US. First the Institute of Supply Management's (ISM) indices measuring sentiment in the manufacturing and services sector of the US economy both posted declines.
The PMI (Purchasing Managers Index) for US manufacturing remained below the 50-reading separating expansion – reading above 50 – and contraction – reading below 50. In September the Manufacturing PMI dropped to 47.8, down from the previous month's 49.1. The non-manufacturing or services sector was expected to remain in expansion territory with a consensus forecast of a reading 55, down slightly from the 56.4 reading in the previous month. The current reading slumped to 52.6.
Employment in the US appears to be slowing as well, with the latest figures showing 136,000 new private-sector jobs added, falling short of the consensus forecast of 145,000 jobs. However, figures for the previous two months were revised upward, and the unemployment rate fell to 3.5% while wage growth remained stagnant, posting the lowest increase –2.9% — in more than a year.
Here in Australia both the manufacturing and non-manufacturing indices remain in expansion territory with the unemployment rate at 5.2%.
Most economists and market experts attribute much of the economic stutters worldwide to the ongoing trade war between China and the US. Now the world faces a new worry as the recent WTO (World Trade Organization) ruling in favor of the US in a dispute over European government subsidies to EU aircraft manufacturer Airbus, opens the door to the US threat of slapping tariffs ranging from 10% to 25% on EU aircraft and agricultural products, effective on 18 October.
This uncertainty suggests looking for dividend paying stocks in sectors most immune to global downturns, and no sector meets that criterion better than healthcare.
ASX investors are blessed with four of the best healthcare stocks anywhere:
Blood plasma and vaccine producer

CSL Limited (CSL)

Hearing implant producer

Cochlear Limited (COH)

and

Sleep Apnea device producer

ResMed Incorporated (RMD)

Private hospital provider

Ramsay Healthcare (RHC).
However, their dividend yields are modest, and the stock prices are considered "pricey" by many analysts. The upside to the three is their solid history of dividend payments and attractive growth forecasts.
There are other ASX healthcare stocks with fully franked dividend yields above 2% with reduced risk. Unlike the US where corporate dividend payments are taxed both at the individual and corporate level, in Australia we have a system of granting franking credits to avoid double taxation. In practice, this usually means dividend payers fully franked at 100% will return to the investor higher yields, or "grossed-up yields" than the yields shown on financial websites. Calculating the actual amount is complicated and depends on the number of shares you own and your tax bracket.
The following table includes three ASX healthcare stocks with respectable yields and attractive historical and future growth metrics.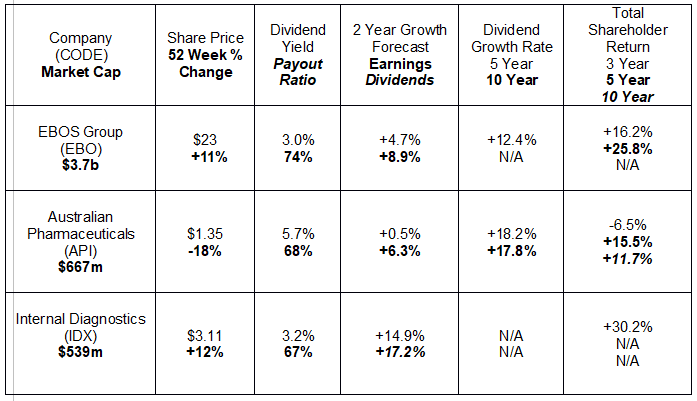 EBOS Group Limited (EBO) is a stock well under the radar of Aussie investors. Despite a market cap of well over $3 billion dollars generating close to $7 billion in sales, the 3-month average daily trading volume of EBOS shares is a paltry 1,437 shares, perhaps due to its New Zealand origins and recent (December of 2013) ASX listing.
The company was founded in 1922 as the Early Brothers Trading Company, selling dental and surgical supplies. Today EBOS Group operates in four areas:
Community Pharmacy/Consumer Products – 52% of Revenue

Institutional Healthcare – 26% of Revenue

Contract Logistics – 6% of Revenue

Animal Care Products – 14% of Revenue
The company offers a broad range of health and wellness products along with medical supplies and pharmaceuticals to pharmacies, hospitals, clinics, aged care facilities and other healthcare facilities. EBOS also offers management software and logistics solutions. EBOS operates as both a wholesaler and direct distributor.
The company continues to expand, making $93.6 million dollars in acquisitions in FY 2019. FY 2019 financials showed a modest 0.8% decline in revenues and a 5.2% increase in profit.
Shareholders were buoyed by the 2 July of 2018 news EBOS had replaced Sigma Healthcare (SIG) as the exclusive wholesaler for Australia's largest pharmacy retailer, My Chemist/Chemist Warehouse Group.
From Yahoo Finance: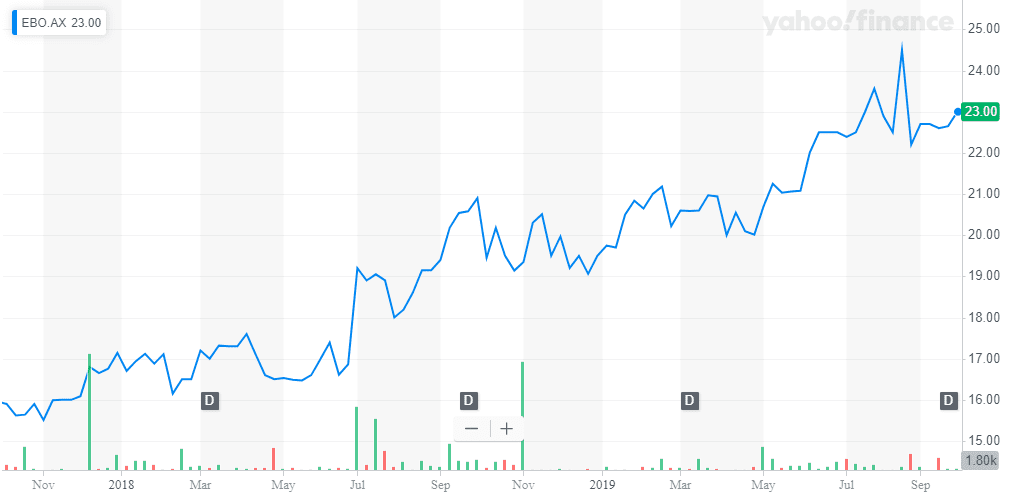 Australian Pharmaceuticals Industries (API) is a pharmaceutical and beauty products wholesale distributor with two branded pharmacy chains – Priceline Pharmacy and Soul Pattinson Chemist. The Soul Pattinson Chemist pharmacies were acquired in 2003 with the former parent, investment company Soul Pattinson (SOL) holding close to 20% of API shares.
Priceline pharmacies are franchise operations, wholly owned by the company. API also operates anti-ageing skin care, laser hair removal, and cosmetics outlets under the brand Clear Skincare.
Australian Pharmaceuticals failed in its attempt to acquire rival Sigma Healthcare and the stock price has been in decline for more than a decade.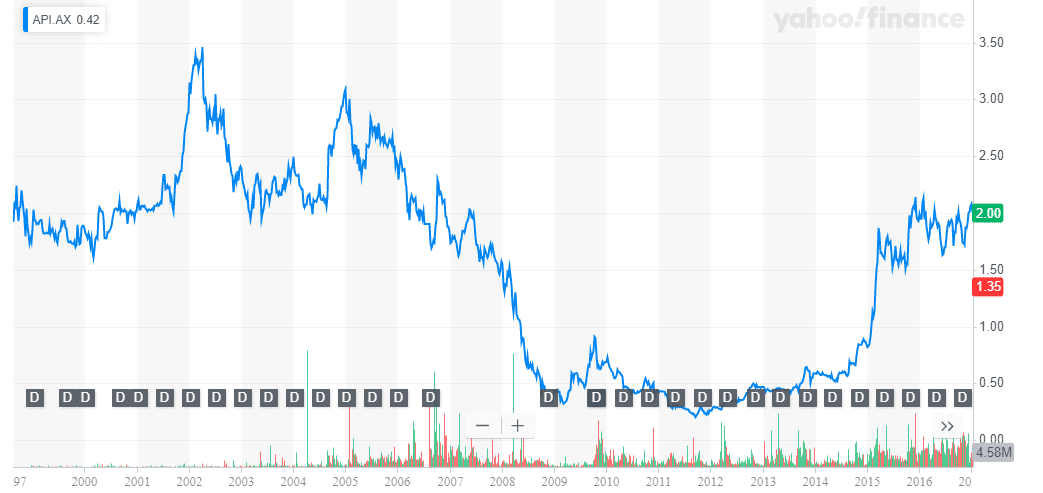 However, note that the company has paid dividends every year since listing, with the exception of 2007. Those dividends allowed investors holding the stock for a decade to achieve a very solid rate of return of 11.7%. From the website sharedividends.com.au, the following graph shows franking credits in each year, with dividend payments rising again over the last decade.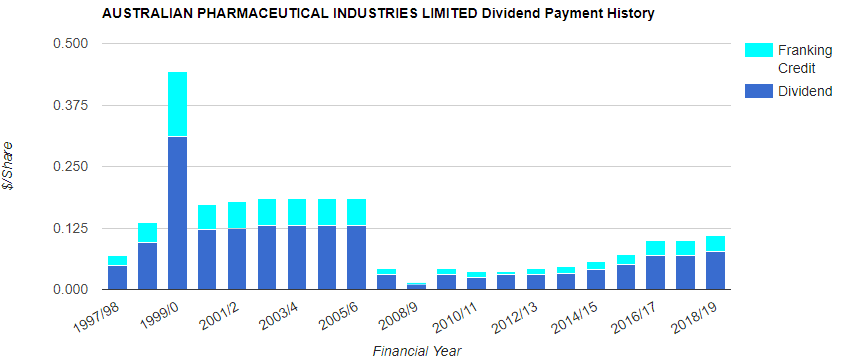 Internal Diagnostics Limited (IDX) has a decided advantage over the other two companies in our table. While consumers can cut back on over the counter purchases of pharmacy offerings, diagnostic imaging is not in the discretionary spending category, and for most is paid wholly or in part by government programs or private insurance.
Internal Diagnostics listed on the ASX in October of 2015 with its share price up about 76% since listing. The company provides diagnostic imaging services through a network of 48 sites, with 13 hospital sites among them. The sites are grouped under four brands –
Global Diagnostics serving rural areas and metropolitan Western Australia

Lake Imaging – a private practice serving Victoria

South Coast Radiology on the Gold Coast, and newly acquired

SRG Radiology, Trinity MRI, and Cavendish MRI in New Zealand.
The company's Full Year 2019 Financial Results showed a 22% increase in operating revenues and a 39.1% rise in statutory net profit after tax (NPAT). From operations, NPAT rose 40.1%.
For FY 2020 Internal Diagnostics will push organic growth by expanding technological capabilities in key sites, including additional equipment and hospital improvements.
On 25 September the company successfully completed a retail entitlement offer, raising $31 million dollars. This followed the 27 August completion of an institutional entitlement offer, raising $41 million dollars. Proceeds will go in part towards the acquisition of Imaging Queensland (IQ).