At its 7 September board meeting the RBA announced a hike in the cash rate before 2024 is unlikely. The rationale for the decision was inflation within a range of 2 to 3 percent, which the RBA does not anticipate happening any time before 2024.
On the economy the bank sees a slowing economic recovery, not a declining one with a quickening pace dependent on the easing of COVID related restrictions. In their own words, the RBA board expects the Delta outbreak is "to delay, but not derail, the recovery."
While not unexpected, the decision is not good news for fixed income investors but bodes well for those Aussie investors who have already turned to ASX dividend paying stocks for a passive income stream from their investment holdings.
In times long since past most, if not all, blue chip companies paid dividends, which are twice yearly cash payments to their stockholders. As more and more investors clamored for higher share price growth, more and more companies scrapped or reduced dividend payments to increase investments in opportunities to grow the company and therefore raise the share price.
In 1980 close to 95% of stocks on the US S&P 500 Index were dividend payers before a decline set in that lasted until the dot.com bubble burst at the turn of the century. .
Investing in dividend payers makes good sense in times of low interest rates, as long as the bond market cooperates. However, in dramatic market downturns like the GFC (Great Financial Crisis) investors often abandon all equities and flock to the safety of bonds, even at ultra-low yields. Investing in dividend paying stocks began rising in 2004 before falling off the cliff in the aftermath of the GFC.
In searching for advice on how to pick dividend stocks best suited to meet the needs of individual investors, there is only one piece of advice on which all market experts agree – do not pick a stock based only on its yield.

This might surprise newcomers to share market investing who have already begun searching and found numerous websites that list ASX dividend payers by yield in descending order.
So who wouldn't be attracted to the stock with the highest yield? The answer lies in how the yield is calculated – by dividing the annual dividends paid by the current share price. The lower the share price the higher the yield, which means the highest yielding companies may be experiencing challenges causing the share price to decline.
Dividends are not guaranteed, especially in uncertain times. Dividend payments are an attractive feature so virtually all dividend paying companies will go to great lengths to avoid reducing or in the worst case eliminating the dividend.
Generally speaking, the larger the company the better its capability of maintaining dividend payments in tough times. Stocks with a solid history of dividend payments and earnings growth along with acceptable payout ratios are the ones to look for.
The dividend payout ratio is a metric used to assess a dividend paying stock's ability to maintain its dividend payment. The payout ratio is a percentage of a company's earnings – or in some cases a percentage of cash flow – paid out to shareholders.
The formula is total dividend payments for the fiscal year divided by net income, earnings, or cash flow. Math mavens new to share market investing can quickly spot a possible caveat here. What happens when the payout ratio approaches 100% or goes negative?
As with most market metrics, tracking over time is superior to a snapshot of a single year. The following table includes current ASX dividend paying stocks with yields in excess of 10% — AGL Energy (AGL), Fortescue Metals Group (FMG), BHP Group (BHP), and Rio Tinto (RIO).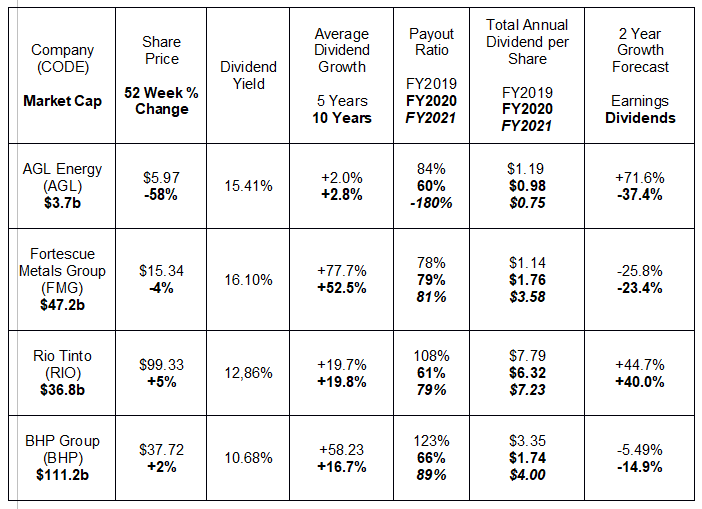 The numbers for AGL Energy make the case for the need to be skeptical about stocks with yields in excess of 10% while the remaining three make the case that shunning high yielding stocks is not a hard and fast rule.
A negative payout ratio is possible when a company has posted a loss for the fiscal year but chooses to maintain a dividend payment, albeit reduced. It means the company either dipped into cash reserves to make the dividend payment or borrowed money.
AGL's earning forecast is deceptive since it is coming off a low base – a loss of $0.416 per share in FY 2021, with an expected rise to $0.52 per share in FY 2022 before dropping again to $0.392 in FY 2023.
AGL, Australia's largest provider of electricity, reported a loss of $2.5 billion dollars in FY2021, blaming in part unstable electricity pricing. However, investors are abandoning AGL in greater numbers than those of rival Origin Energy. This is not an "apples to apples" comparison as Origin is more diversified and most notable is actively pursuing green energy solutions while AGL is not.
AGL's answer has been to contemplate spinning off its coal assets into a separate company, a solution investors roundly rejected. Here is a year over year comparison of the share price performance of the two.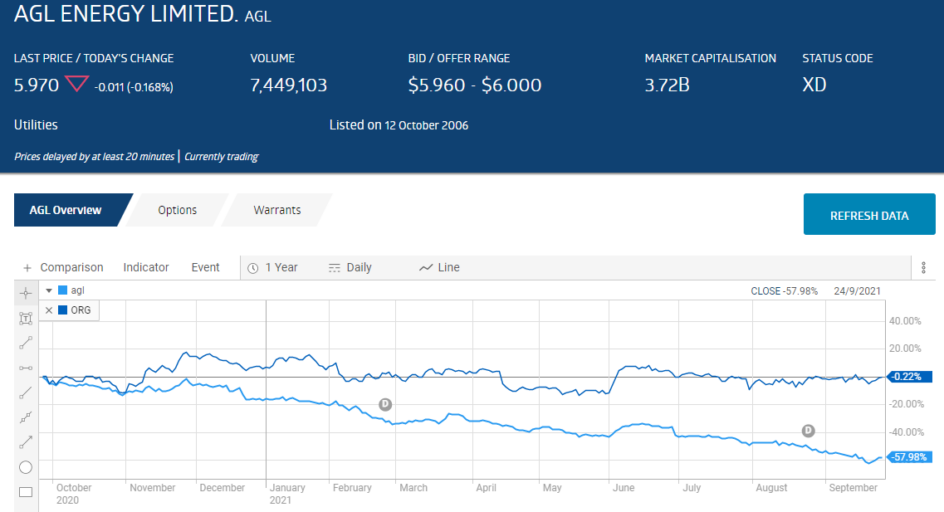 The AGL share price got a bit of a boost as shareholders ignored the AGL board's recommendation not to go along with emissions targets called for in the Paris Accords. A majority of shareholders – 55% — voted in favor of reduced emission targets, but a resolution for those targets failed, with AGL management claiming work is underway on decarbonisation targets in conjunction with the proposed demerger.
Skeptical investors might scoff at the dividend performance of iron ore miners at the mercy of a volatile commodity pricing market. Yet all three continued to pay dividends in the face of declining share prices. Rio never missed its twice a year dividend payment in ten years while Fortescue and BHP missed once.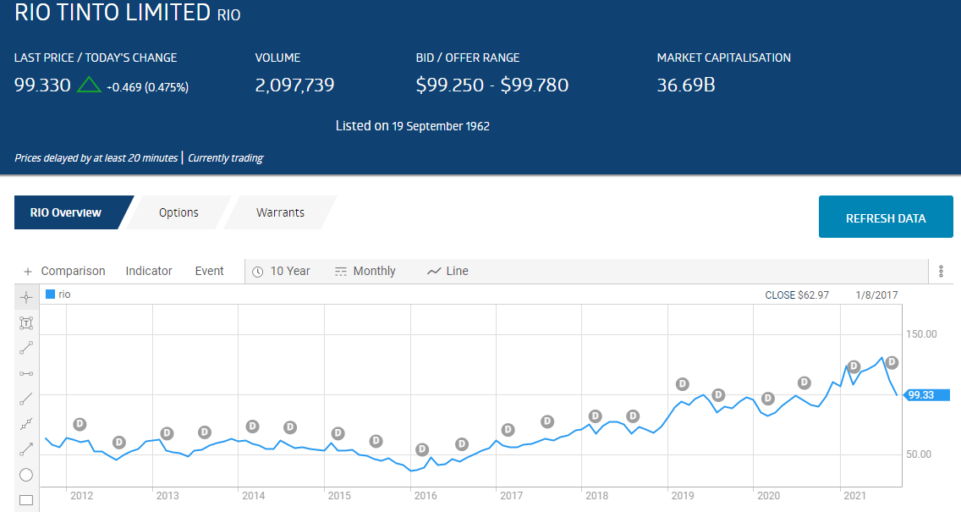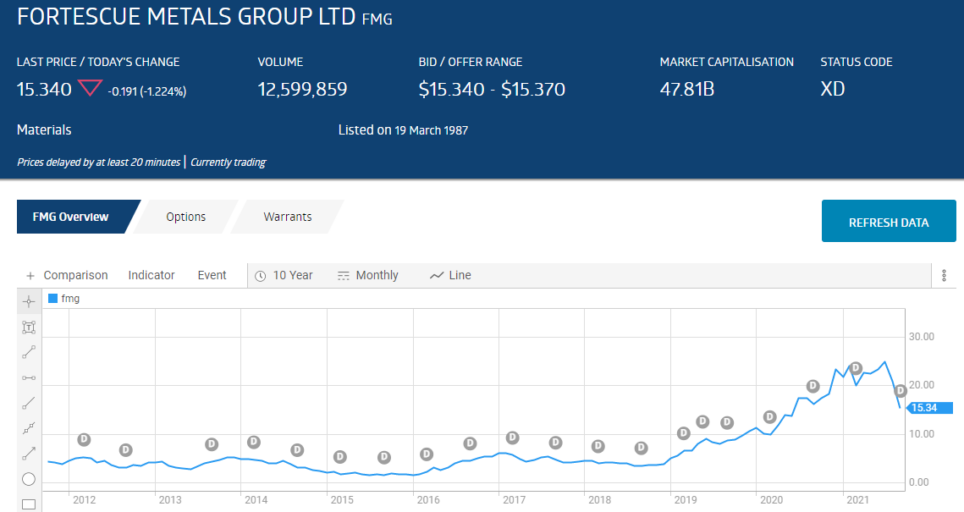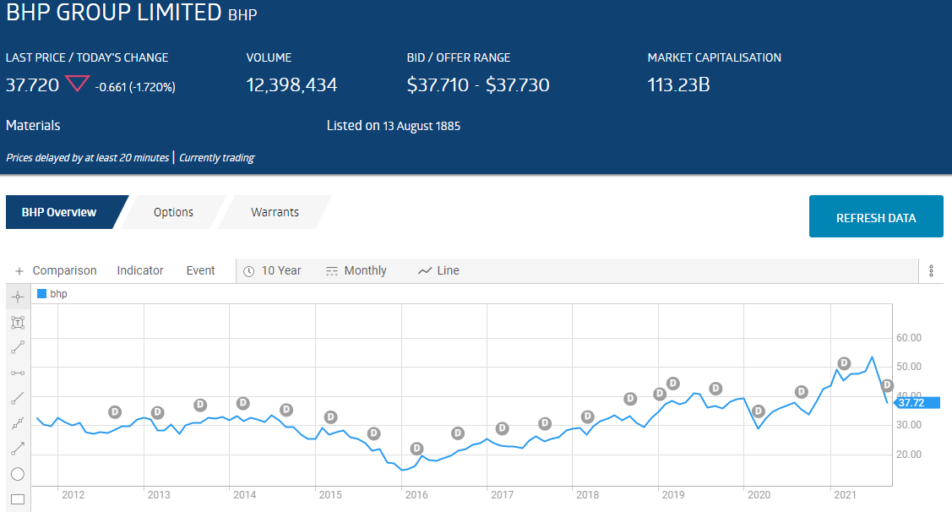 The share price of all three of these companies is dropping over concerns coming out of China, the world's largest importer of iron ore. It is likely the three will remain held hostage by the outcome of the debt crisis at Chinese property development giant, Evergrande. As of Friday morning of the 23rd of September the company had missed its 22 September interest payment and remained silent as to its next course of action. Evergrande has thirty days to make the payments before going
Fortescue is a pure play iron ore miner with plans to expand into producing "green" hydrogen by 2030. The company owns and operates three major iron ore producing hubs in Western Australia along with railway and port facilities.
BHP has shed its thermal coal and oil and gas assets and is in the midst of a major development push for its Canadian potash project. The company also owns and operates copper and nickel mines as well as mining metallurgical (coking) coal used in steel production.
Rio is the most diversified of the three, with iron ore is major commodity but the company also mines aluminum, bauxite, copper, diamonds, salt, titanium dioxide, and lithium.
Dividend investing is, or should be, a longer term prospect. All of the big three ASX iron ore miners have demonstrated a long term track record of dividend payment, even during challenging market conditions. Dividend payments have been cut at Rio and BHP, but never eliminated. Fortescue managed to increase dividend payments in each of the last three fiscal years. Payout ratios creeping into dangerous territory over 100% at BHP and Rio fell into safer range the following year
Forecasts can be wrong and events beyond the control of the companies can alter the course of their operations, but for investors looking for the lowest risk alternative, Rio may be the answer. The company has double digit growth forecasts in both dividend payments and the earnings necessary to sustain them.
Dividends from all three companies are fully franked.