Are risk premiums back?
Tensions in the Middle East have flared considerably between US and Iran following the calculated decision to kill Iranian state actor General Qassem Soleimani, Iran's most powerful military commander. Iranian officials have called it "extremely dangerous and a foolish escalation" though Trump defended the decision claiming Soleimani was behind "eminent and sinister attacks" on American personnel.
These unforeseen developments late last week drove typical risk-off flows through global markets and saw risk premiums slowly creep back following a bullish Q4 2019 performance. With the timing and nature of Iranian retaliation currently unknown but expected, participants are likely to remain on edge and inclined to show more risk-off behaviour in the short-term.
Continue to look for infrastructure risk premiums to be priced into Crude Oil which soared to US$69/bbl levels on the news, while USDJPY safe-haven status looks attractive at 108 levels.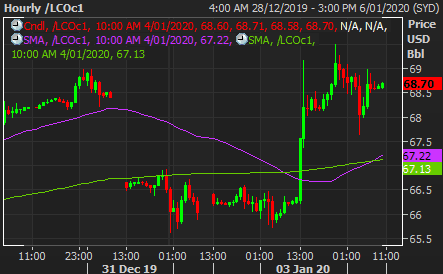 Crude jumped on Jan 3, 2020. Source: Reuters
US-RoW growth the focus late in the week
Key data, which focusses the conversation back onto US growth verse Rest of the World performance, falls late in the week with US Non-farm Payrolls out Saturday 12.30am AEDT. ISM non-mfg PMIs also presents itself on Tuesday 2am AEDT and should be closely watched as well for signs of a broader slowdown in the US economy.
Remember, Dec's NFP number demonstrated the resilience of the US economy and robustness of the US consumer, and so, it's likely we see another positive print tip the scales. While forecast for a 150k employment gain, the preamble of ISM non-mfg could unveil more upside risk to the key data point. Net USD selling in December appeared to be driven by year-end rebalancing and should likely correct itself if US data continues to surprise – which is most definitely still the case relative to other G10 economies. Favour USD buying against G10 through the week.
Tesla's China test in for a bumpy ride?
Tesla (TSLA) sustains its V-shaped comeback after testing all-time highs of 454 during Friday trading. But whether the electric carmaker, due to report 4Q19 earnings late in the month, can show its rolling sedans off the assembly line in China quick enough remains to be seen.
The winding down of subsidies for EVs in China could slow growth in the sector notwithstanding Tesla cars are already priced at a premium to local manufacturers. Having also captured a small piece of the market in China, competition is set to rise over the next few years and looks set to make sales just that touch more difficult.
Short interest despite the 2H 2019's rally ticks along at 15% while EV/EBITDA sits around 23.
Published by Bethel Loh, Macro Strategist, TF Global Markets (Aust) Ltd