Did you know that most people are first introduced to the fascinating world of trading by friends and family?
Whether it's formulating winning strategies or prospecting together for the next big thing, many traders enjoy the social aspect of trading.
Fortunately, eToro makes it easy for you to share your passion for trading with those closest to you with their referral program.
In this guide, we will take a closer look at the referral bonus from eToro and you will learn how to make a bit of extra cash by referring a friend.
What Is the eToro Referral Bonus?
In essence, this programme rewards you for referring new customers to eToro. The reward takes the form of a monetary bonus which will be credited directly into your account. Read on for more information on how much this bonus is and how you can receive it.
How Does the Programme Work?
Rewards programs are based on referral links. Referral links allow businesses such as eToro to see exactly which customers have referred others to their platform. Each referral link is uniquely assigned, which means no one else will have the same link as you.
Each time someone uses your link to sign up, make a deposit and close a trade on eToro, you will receive a referral bonus that will be credited directly into your account.
How Much Is The Referral Bonus?
The referral bonus for eToro users is US$50 or US$100, depending on where you live.
Both you and your referred person must live in one of eToro's 'Qualified Countries' below. If one (or both) of you don't live in any of these countries, you won't be eligible for the referral bonus offer:
EToro Referral Bonus and Their Respective Countries
| | |
| --- | --- |
| Referral Bonus | Qualified Countries |
| US$50 | Argentina, Bolivia, Cambodia, Chile, China, Colombia, Costa Rica, Cuba, Dominican Republic, East Timor, Ecuador, El Salvador, French, Guayana, Granada, Guatemala, Guayana, Haiti, Honduras, Hong Kong, India, Indonesia, Jamaica, Laos, Macau, Malaysia, Mexico, Nicaragua, Panama, Paraguay, Peru, Philippines, Surinam, Taiwan, Thailand, Uruguay, Venezuela. |
| US$100 | Australia, Bahrain, Kuwait, Oman, Qatar, Saudi Arabia, United Arab Emirates |

How Many Times Can I Use My Referral Link?
You can refer up to 10 people using your unique referral link. Theoretically, this means you can qualify for up to 10 bonuses. However, it's important to remember that you and your referred person must live in a 'Qualified Country' and meet the terms and conditions of the offer (more on this next).
Terms & Conditions
In order for you and your referred person to qualify for the referral bonus, there are some important conditions you must first meet:
Both persons MUST live in a 'Qualified Country' to be eligible
Your referred person MUST make a single deposit of at least the minimum deposit amount applicable to their country
Your referred person must be a NEW eToro customer (i.e. NEVER registered with eToro before)
Your referred person MUST complete the first-time deposit within 6 months
Your referred person MUST make a deposit using his/her own payment method
Your referred person MUST complete their account verification within 6 months from registration
BOTH you and your referred person MUST have opened and closed at least one trade using real money (Australia only)
How Do I Refer a Friend?
eToro makes the referral process very easy. Refer a friend by following these steps:
1 – Log in to your eToro account: On the left-hand side, click 'Invite Friends'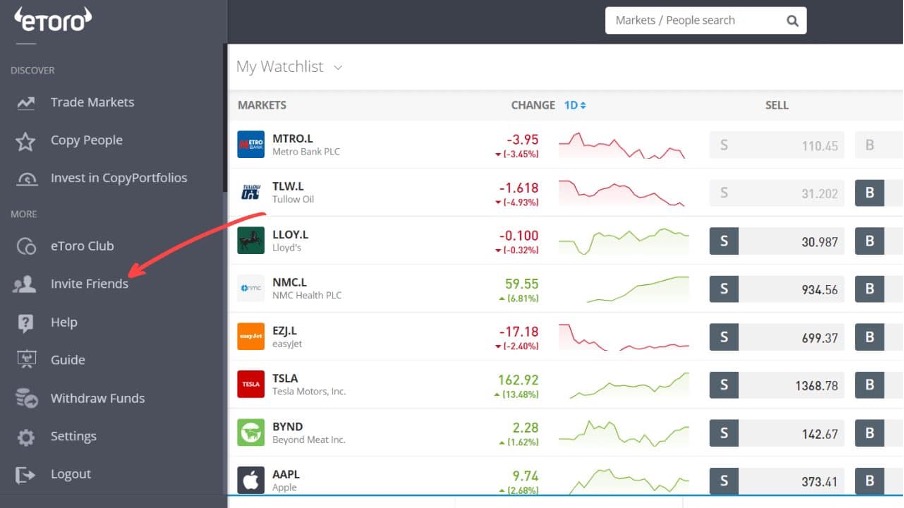 2 – Copy your link & send it to friends: A new tab will automatically open up in your browser with your unique referral code. Hit the 'copy' button and send it to your friends. You can also post your link on social media for quick sharing. So easy!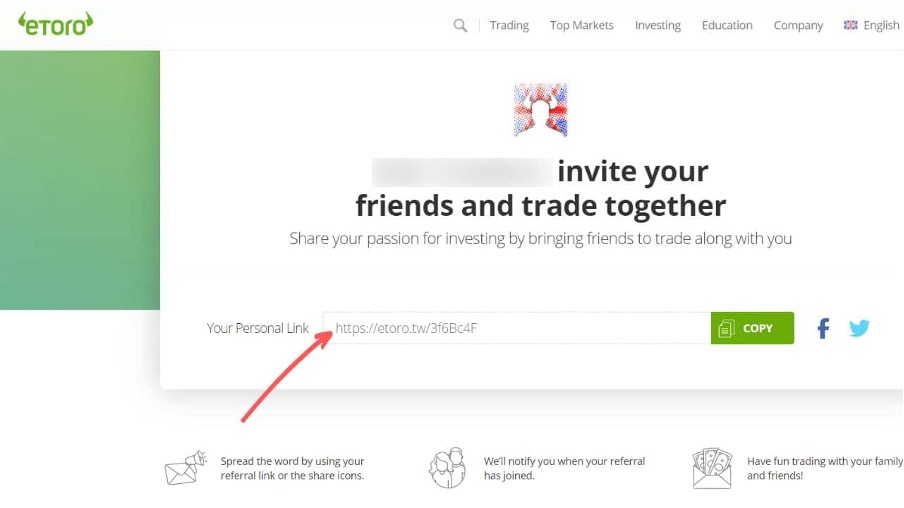 What's Next?
It's one thing to ask your friends to sign up, but it's another to expect them to deposit their money and make a trade in order to qualify for the bonus. If they are new to trading, you can help them learn the basics by pointing them to our Getting Started in Trading guides.
Here, they can learn all about CFD trading, from how to create a trading plan, manage their risk and a few basic trading strategies to help them get started.
It's also a great idea to ask them to check out our review of eToro and set up an eToro demo account so that they can practice trading and fine-tune their strategy before they start using their own money.
People who read this also viewed: