Experienced retail investors are wary of business sectors that could be subject to the long arm of government regulatory changes. In theory, any sector could become subject to the typical investigatory process that precedes regulatory oversight. In practice, inquiries are more likely in sectors where government funding or regulatory oversight is involved. Recent examples include government inquiries in the aged care sector and health care delivery sectors that sent many stocks in those sectors reeling.
Sectors like financial services are subject to ongoing regulatory oversight. The Haynes Commission looking into that sector also sent stocks reeling, with the final report leaving some unscathed and others subject to new recommendations.
The Haynes Commission was formed in late December of 2017, two years after a joint Fairfax Media/ ABC Four Corners expose entitled Banking Bad exposed unscrupulous practices in the industry. Shares of the Big Four banks suffered but were among the sector companies largely left alone by the final report of the commission, released in February of 2019. Commonwealth Bank of Australia (DBA), Westpac Banking Corporation (WBC), National Bank of Australia (NAB), and Australia and New Zealand Bank (ANZ), all saw their share prices begin to rise after the report's release.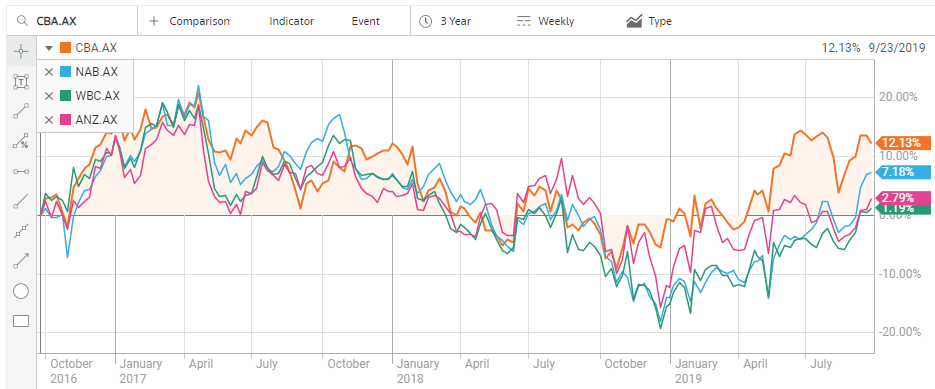 The commission's findings targeted the wealth management companies, but except for AMP Limited (AMP), both Perpetual (PPT) and IOOF Holdings (IFL) rallied.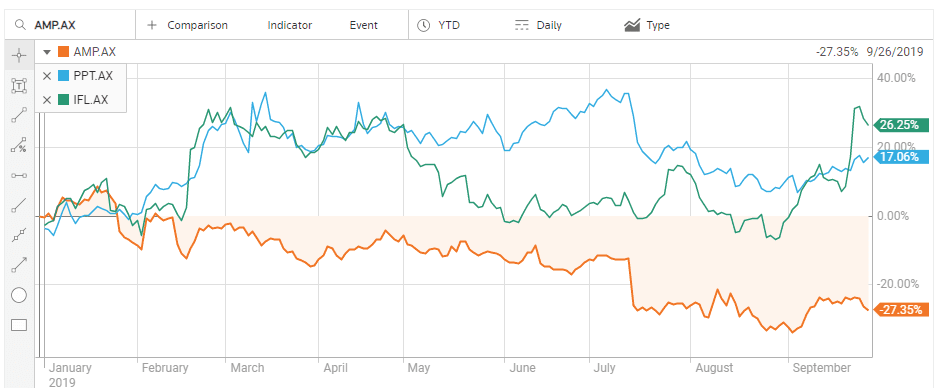 The rallies may have provided opportunities for short-term contrarian investors, but the big names in the financial services sector face a threat more ominous than government regulation – the rise of the financial technology (fintech) disruptors. Competition from online wealth management platform stocks like Hub24 (HUB) pose a long-term competitive threat.
With a long history of investigative journalism, Four Corners is at it again, with the late September release of a new investigative program targeting the Australian funeral industry.
The funeral industry here is largely fragmented, populated by two ASX listed stocks and an array of privately held small companies, and family-owned operations. The largest player on the ASX, InvoCare (IVC) controls close to one third of the market. The company recently got a new ASX competitor, Propel Funeral Partners (PFP), listing on the ASX on 30 November of 2017.
Both are actively acquiring the smaller competitors. Both operate in Australia and New Zealand with Invocare operating in Singapore as well. The funeral industry is a sector with bullet-proof demand. We all die and those who survive us cannot bury us in the back yard, as crass as that may sound.
In addition, we have an ageing population with projected deaths increasing in both countries.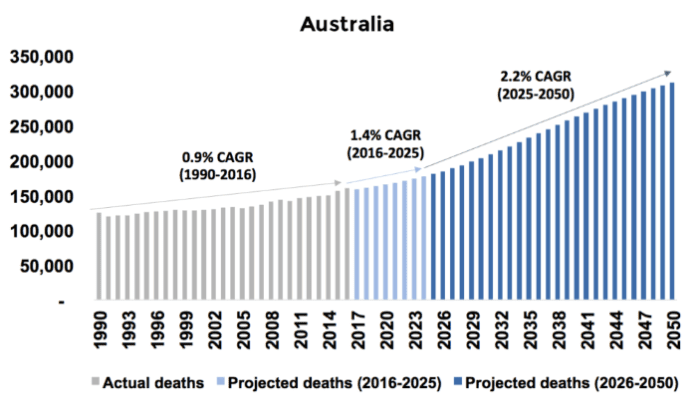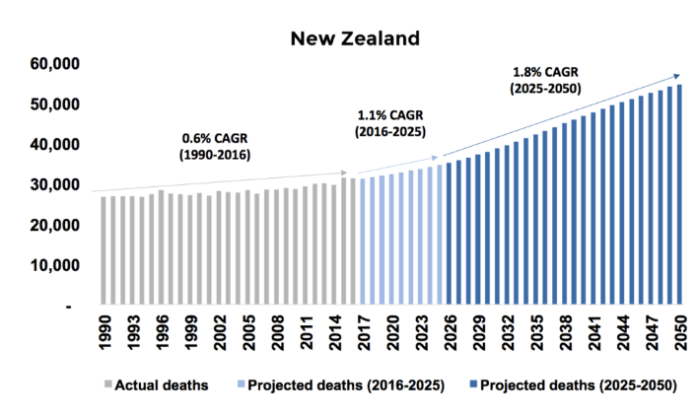 In 2017 15% of Australia's population was over the age of 65. By 2097 25% of our population will be over 65, ensuring continued growth in deaths.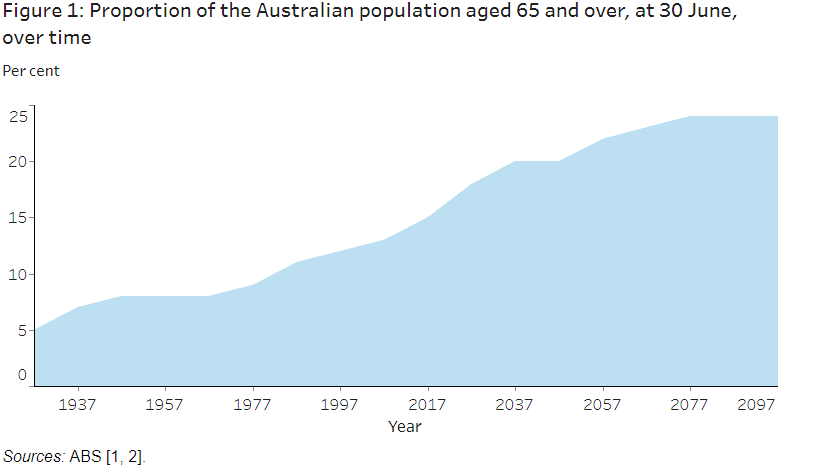 ASX funeral stocks have a decided advantage over financial services providers, aged care operators, and even many healthcare stocks due to the nature not only of the fragmentation in the market, but also in their ability to increase market share through acquisition. Independent funeral operators in Australia account for more than 50% of the market.
The Four Corners expose on our funeral industry is not the first of its kind here in Australia. A 2017 academic research study entitled An Investigation of Death Care and the Funeral Industry in Australia was undertaken by researchers at the University of Sydney and the University of Wollongong in response to community concerns about the state of pricing and other issues in the industry.
In March the Competition and Markets Authority (CMA) in the UK launched an in-depth investigation of funeral industry practices in that country, but Australian regulators have yet to act. Given the rebound in the financial services sector coupled with the superior advantages of the funeral industry sector, a government investigation here driving down the share price of IVC and PFP could present a contrarian opportunity.
The following table includes share price performance and growth estimates for the two ASX listed funeral stocks.

Invocare operates cemeteries for the final resting place along with 290 funeral homes and 16 crematoria. In Australia the company hs 3 national funeral home brands — Simplicity, White Lady Funerals, and Value Cremations — along with more than 30 other brands in Australian states and territories. In New Zealand Invocare has 26 branded funeral homes, crematoria, and cemeteries (memorial parks.)
InvoCare also offers a range of related businesses and services, from pre-paid funeral plans and environmentally friendly coffins to MyGriefAssist, an online support site.
On 23 February 2017, InvoCare's Full Year 2016 results included the announcement of the company's Protect and Grow 2020 plan, with projected expenditures of $200m over four years to "extract greater benefits from existing assets and develop new locations."
It seems InvoCare's ambitious (and costly) development program is in part designed to make their properties more "baby-boomer" friendly, with increased design emphasis on a more upbeat celebration of life concept. This requires retrofitting sites with separate space for memorials and celebrations.
Within a year of announcing the project Invocare gobbled up multiple independent funeral operators at a cost of $14 million. In FY 2018 the company spent $70.6 million, adding 11 properties in Australia and New Zealand.
In some ways, investors act like spoiled children who take their toys and go home when they don't get what they want. Investors want future growth but seem to want the company to figure out ways to grow for free. Capital raises or borrowings to support long-term growth strategies cause some investors to head for the exits.
The Protect and Grow 2020 plan has weakened InvoCare's balance sheet, with total cash on hand as of the most recent quarter of $12 million dollars and total debt of $489 million. However, investors burned by businesses failing to recognise changing customer preferences should have been impressed with what Invocare management had to say about Project Grow.
The current challenge facing the market is the changing customer
preference towards contemporary funerals rather than a traditional
offering.
InvoCare's Half Year 2019 Financial Results showed a modest revenue increase of 7%, year over year, and an impressive 97% rise in profit.
Propel Funeral Partners (PFP) listed on the ASX in November of 2017 with the stated goal of consolidating the fragmented death care industry in Australia and New Zealand.
The company's two-fold growth strategy focuses on acquiring or establishing funeral homes, cemeteries, crematoria, and related properties and infrastructure. Propel now operates more than 100 facilities in the two countries.
Both Propel and InvoCare blamed reduced deaths in FY 2019 due to warmer weather to explain reduced profit. For FY 2019 Propel reported a 12.7% increase in revenues, but profit decline 1.3%. The company added 17 locations in FY 2019, including the acquisition of seven freehold properties in in QLD, NSW, WA and NZ. Freehold properties grant full ownership rights to the holder, including land.
The results announcement included current growth, with Propel now owning 64 properties and leasing another 56, among them 28 cremation facilities and 9 cemeteries. Since its IPO (initial public offering) Propel has committed $116.8 million on acquisitions.
Like InvoCare the company's facilities are branded. The company's balance sheet is stronger than InvoCare's, with gearing of 7.38% (mrq) compared to InvoCare's 169%.
Death rates are returning to norms so far in 2019. Both companies are firmly committed to continue their growth by acquisition strategy, with InvoCare also updating existing facilities.
The downside risk to both is the ACCC (Australian Competition and Consumer Commission). In 2011 the ACCC declined to oppose an InvoCare acquisition, with no oppositions to the numerous acquisitions by both companies since then. An online funeral resource site for consumers — ezifunerals.com.au — speculates that as the two companies continue to eat away at the market share of independent operators, the possibility of future ACCC objections to some acquisitions is something for potential investors to consider.