LLC is looking overseas to provide pre-pandemic returns on its assets.
With an already sizeable US portfolio, LLC is considering alternative footings outside Australia to beef up its top-line revenue, already beaten down by COVID-19.
 Lendlease Group Stapled Securities ASX: LLC (LLC) is a favoured pick  because of its history in Australian and international real estate, proven ability to navigate crises, and sound financial position.
As we exit the pandemic-led era, LLC has recently returned to profit and is seeking better returns on its capital.
Top Australian Brokers
Lendlease Group Stapled Securities ASX: LLC (LLC)
 LLC is a diversified global real estate firm. Having recently navigated the troubled waters of COVID-19 and the damage exacted on its top-line revenue, LLC is now positioning itself for a shift towards higher return on capital, an accelerated development pipeline, and a diversified geographical focus.
LLC exhibited resilience during the pandemic and is now projecting rapid growth in its development revenue over the next five years. Despite the near halving in revenues, LLC recently returned to a profitable position which is a testament to the commitment and ability of its management group.
The company is currently trading with a market capitalisation of approximately 33% of its total asset book value. A modest 2% dividend yield is offset by the decent capital appreciation opportunity such a favourable book value ratio presents.
Strategically pivoting from its Australian home base, LLC is expanding its footprint in Asia, Europe, and the Americas to balance its portfolio and to capitalise on different market opportunities. Geographical portfolio diversification will be critical in the coming months and years as we experience high volatility in asset prices due to increased Central Bank intervention in capital markets.
For those considering a real estate component to their investment portfolio, LLC is a worthy candidate.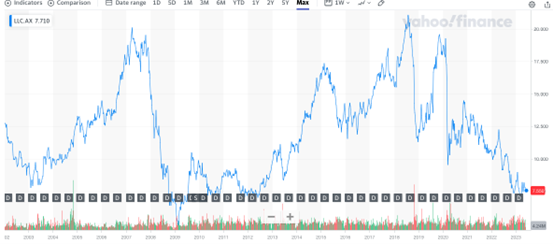 Source: Yahoo Finance 
Related Articles