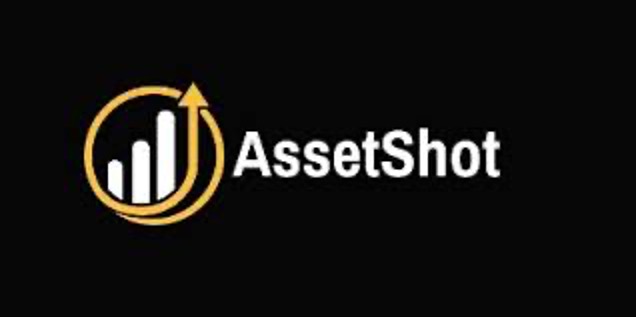 AssetShot
STP broker with no back-office dealing desk
MetaTrader 4 (MT4) trading platform offerings
Over 400 tradable assets
About AssetShot
AssetShot is a forex broker that's licensed to operate in the foreign exchange market in Saint Vincent and the Grenadines (SVG). The Jess Group LLC is the firm's owner, and it has been granted an SVG registration number of 917 LLC 2021. Offices are at First Floor, First St Vincent Bank LTD Building, James Street, Kingstown, P.O. Box 1574, VC0100, Saint Vincent and the Grenadines.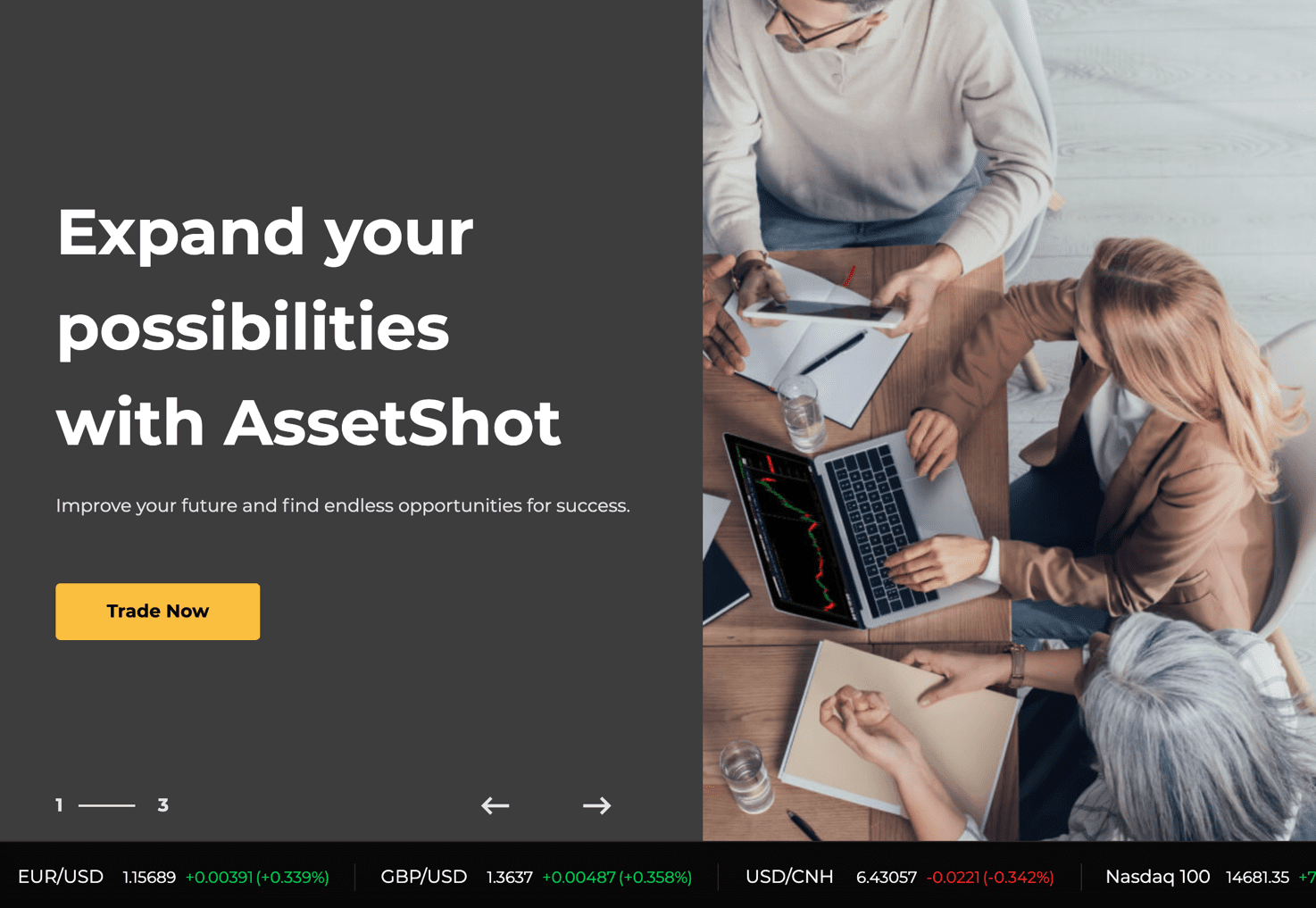 The company's website is professional in appearance and can be read in both English and German. The broker invites you to "Expand your possibilities with AssetShot" and to "Improve your future and find endless opportunities for success". Judging from the '2021' in its licence number, AssetShot appears to be a relatively recent addition to the brokerage community, still, it has "20+" awards and a number of favourable client testimonials on its homepage.
The management team did make a wise decision to use only MetaTrader 4 (MT4) trading platform options as its mainstay. There are no confusing proprietary systems to have to learn. A demo practice system is free, and there are four customised versions of MT4 platforms to appeal to users of any type of access device.
There are four account categories, with varying spreads and leverage limits according to your personal deposit decision. Spreads are below average at the low end, as is to be expected, and then tighten as you escalate up the spectrum of offerings. After a minimum deposit of $250 and approval of your Know Your Customer documentation, you then have access to 400+ assets, which include forex pairs, commodities, metals, energies, stocks, indices and futures.
When writing our AssetShot broker review, we found that the broker is an offshore broker with limited regulatory oversight. If you have questions, use its email service and then evaluate the responses. The broker has chosen this route to appeal to those traders who prefer higher limits of leverage and bonus promotions, but caution is advised since this firm appears to be a startup in its first year of operation.
Products and Trade Offers
Our AssetShot review indicates that one of its primary benefits is that its clients may choose from over 400 assets to trade from over 20 financial markets across the globe. A description of the various categories follows:
Foreign Currency Pairs: The firm has deep liquidity in 60 currency pairs, thereby ensuring rapid execution speeds without re-quotes. The foreign exchange market is perhaps the largest trading market in the world, but AssetShot counsels its clients that it might be to their benefit to concentrate initially on the most traded and popular pairs, i.e., the "EUR/USD" pair and the "USD/JPY" pair.
Indices: One popular way to trade where risk diversification is built into the process is to trade exchange indices such as the S&P 500 Index, the NASDAQ 100, or the Germany 30. AssetShot enables CFD trading in 16 global stock exchange indices with tight spreads as low as 0.5 points. By using CFDs, you are speculating on the direction that an underlying exchange index will take over time without actually having to buy the underlying asset. CFD trading with these assets is "24/5" and commission-free.
Metals: During uncertain economic times, especially during the COVID-19 pandemic, traders have looked to precious metals as a wise way to diversify risk and bring stability to their portfolio. AssetShot provides a vehicle for this portfolio diversification by having its clients choose gold, silver, platinum, palladium, or a combination thereof, depending upon the desire of its clients. The medium offered is CFD trading in futures and options contracts.
Energies: Energy may be the Mother of all resource markets across the globe, and traders have turned to these assets once again to bring a diversification of risk to their portfolios. There is a wide range of variables that can impact energy prices, but since most are priced in the US dollar, energy prices can offer a way to hedge against a weakening USD. AssetShot offers trading in coal and electricity, as well as Brent crude oil, WTI crude oil and US natural gas. The avenue for these trades is via a CFD.
Futures: CFD trading with AssetShot also offers a way to trade on the direction that commodities might take in their respective futures markets. With the comprehensive tool set provided, a trader can also tackle currency pairs, indices, shares and precious metals, in addition to agricultural commodities, all without having to purchase the underlying futures instrument.
Shares: Lastly, AssetShot provides CFD trading on the direction of hundreds of corporate stock issues from the US, Europe and Asia. These shares include companies such as Apple, Vodafone, Citibank, HSBC, Ford Motor Company and IBM. When speculating with CFDs with these shares, you may go long or short, depending upon your expectations of market directions without any direct purchases of the underlying vehicle.
From time to time, the broker offers various bonus schemes, the size of which may depend upon the amount of your deposit. Within the documents section, there is a Bonus Agreement that specifies the details of how any scheme is applied and what the obligations are for the trader.
In addition to a free demo account, AssetShot offers four distinct account categories, tied back to the amount of your initial deposit when you open your real account. All accounts come equipped with a Personal Account Representative, a mentor to guide your progress while trading on the system. The four accounts are as follows:
Bronze: Minimum Deposit = $250, Leverage is 1:100, and spreads are from 2.8 pips.
Silver: Minimum Deposit = $2,000, Leverage is 1:200, and spreads are from 2.5 pips.
Gold: Minimum Deposit = $10,000, Leverage is 1:300, and spreads are from 1.5 pips.
Platinum: Minimum Deposit = $50,000, Leverage is 1:400, and spreads are from 0.1 pips.
All accounts have equal access to the 400+ portfolio of asset choices, unlimited open positions, 5% Stop Out Levels, scalping strategies, and news trading. With respect to Expert Advisors (EAs), only the Platinum account status permits the use of EAs.
To create an account, you must contact customer service for an application form. Once submitted, a representative will guide you through the next steps, which will include funding your account and submitting personal identity documents as required by law. Visa and Mastercard are just two of the payment method options available.
Account verification of pertinent documents is a necessity that all forex and CFD brokers must comply with in order to offer their services to prospective clients. You will need a copy of your ID or passport, a recent utility bill with your name and address, and the credit card you intend to use for funding with all but the last four digits covered.
Deposits and withdrawals are supported by an automated system using your credit card information or a bank wire directly to your account. AssetShot charges no fees for either a deposit or a withdrawal, but banking intermediaries may charge a fee for their services. After account documentation has been verified, you may submit a withdrawal request at any time. AssetShot prides itself on its swift turnaround of all withdrawal requests.
STP broker without a back-office dealing desk
400+ tradable assets
No fees or commissions
MT4 trading platform options
No regulatory oversight
Spreads at low end of account range are higher than average
Commissions and Fee Charges
Under its 'About Us' section, AssetShot promises that, "We offer some of the most attractive trading conditions in the industry, such as tight spreads, low to zero commissions, and various account styles customized to our client's tastes and needs."
The firm also emphasises that there are no hidden fees. There are no fees for deposits or withdrawals. There is no mention about overnight swap fees on open positions, but these fees are assessed in accordance with interest rate differences between the countries behind the two currencies in the pairing. The "low to zero commissions" most likely apply to the Platinum account pricing in line with what institutional traders expect when dealing in major-sized trades. As for spreads, they are tight in the upper account ranges, but above average in lower account settings.

What Others Say
As a relatively new broker, there has yet to be a substantial number of reviews of AssetShot. The major reviewers in the forex industry have yet to publish their assessments. The firm does display a number of favourable testimonial comments by its clients, and a casual review of the internet personal review sites do yield positive comments. The general tone is that there may be problems, as is the nature of a startup, but the customer service personnel were professional and supportive, so much so as to receive positive accolades from several satisfied customers.
Any AssetShot broker review found today tends to be mixed. Being located in SVG is often interpreted as a potential issue, and when the firm's address is inserted in Google, several financial companies arise with the same address.
In summary, the jury of public opinion is still out for AssetShot. Over time, it may develop a positive reputation in the industry. Social media commentary falls on both sides of the equation. If you have any concerns ask the company questions through its contact email system.
Customer Service
Every account holder with AssetShot is assigned a personal account manager. Contact can be made via email or direct telephone. After your account is set up, there may be a live chat service, since the website states that chat is offered. The AssetShot platform is available for trading "24/7", and the company states that, "Our customer support team is online 24/7 to assist you if you have any queries about the verification process." For general queries and basic support, customer service managers are up and running "24/5".
Platform Features and Tools
AssetShot provides for practice purposes a free MT4 demo trading platform. For a real account, four customised versions of MT4 trading platform system configurations await you. These four options are as follows:
MT4 Terminal: If you prefer to have your operating software onsite, then you may always download AssetShot's version of MT4 software onto your desktop or laptop device. MT4 is so popular because traders have become accustomed to how charts are laid out, how indicators and analysis tools can be easily accessed, and how quickly trading history and open trades can be called up with one click.
MT4 Mobile: AssetShot also supports those traders who want to trade at anytime and anywhere from the device held in the palm of their hand. MT4 Mobile is the solution and works for both Android and iPhone smartphones. One-click trading and CFD trading are also supported.
MT4 Web: You do not have to download software to your access device. MT4 Web provides the full MT4 functional environment on the AssetShot servers. If you have access to the internet, then you can trade. The functionality of MT4 is not diminished.
MT4 for macOS: Mac devices do require special attention, and MT4 offers a solution for these purposes, designed to work seamlessly with macOS systems. The 'Wine' emulator app must also be deployed, but afterwards, the advanced features that you have come to expect with macOS systems will be fully functional.
The AssetShot website also supplements its platform discussion with an MT4 Guide. It follows after each platform option description. This section provides answers to basic queries such as, how do I make a trade or where can I find my portfolio balances? There are also answers to several other questions that you might have.
Mobile Trading
AssetShot does offer MT4 Mobile, which supports trading on both Android and iPhone handheld devices. One-click trading and access to the tools and features for profitable trading are included within this operating environment.
Robo Trading
Our AssetShot broker review did not find any evidence that robo or copy trading was an option with the broker. This fact does not preclude that there will be a copy trader-type service in the future plans of the management of this firm. As this broker gets up and running, it may begin to broadcast its plans for future developments and features.
Research and Learning Section
Our AssetShot review did not find the presence of any research or learning sections on the firm's website, though the management states on its 'About Us' webpage that clients "Enjoy access to five-star-rated educational materials and your very own trading mentor." The inference is that access to research and educational materials will be provided by your "mentor", based on need. MT4 platforms typically have access to additional trading information and news.
Regulatory Details
AssetShot operates out of SVG. The Financial Services Authority (FSA) was established in SVG in 2012, but it does not exercise any regulatory oversight over the forex brokerage industry.
The FSA has warned consumers in the past to be wary of institutions that are registered in SVG. In fact, in March 2018, the agency went so far as to state: "The FSA does not issue any licenses to carry on the business of FOREX trading or Brokerage or Binary Options Trading nor does the FSA 'Regulate, Monitor, Supervise or License' International Business Companies (IBCs) which engage in such activities."
OUR SUMMARY
Due perhaps to preliminary startup conditions, our AssetShot review found that disclosures were limited. Your assessment of this broker may require email queries on your part. Setting up a real account may also yield additional transparency for you, especially from your personal account manager.
AssetShot is an offshore broker located in a less strict regulatory district. If you believe the favourable online testimonials, however, AssetShot does have a group of satisfied customers. The appeal of higher leverage limits and a more flexible operating environment are the draws. If you find that appealing, you might want to use this broker.
BACK TO TOP