It may come as a surprise to some resource focused investors to learn one of Australia's top ten export commodities is international education related services.
At first glance one wonders how something that never leaves the country can qualify as an export. The explanation is an export is anything made in a country that is sold to customers outside the country, regardless of delivery method.
In 2015 education related services jumped into third place in the Top Ten of Australian exports, but a 19 February 2021 article appearing in the Sydney Morning Herald noted a drop to fourth place. The challenges of border closedowns, flight restrictions, and lockdowns here in Australia may have contributed to the drop. Yet the Herald article reminds us Australia still has stellar universities that attract students from more than 150 countries.
Although some express concern over the number of Chinese students in the country given current conditions between the two countries, SMH also reminds us that although China accounts for 31 per cent of our total education exports, that figure represents only 8% of our total exports to China.
Given the fact English has become the de facto international language of business in a global economic environment, it is little wonder international students are eager to attain English language proficiency. The total education related exports include both students here for English Language Intensive Courses for Overseas Students (ELICOS) training and University students. Many students who come here for ELICOS education remain to get degrees from Australian colleges and universities considered to be more prestigious than higher education institutions in their home countries.
International students' contributions to our economy far exceed tuition costs. They eat, seek entertainment, and shop, shop, shop. The Australian Department of Education, Skills, and Employment claims these students contribute $40 billion annually and support 250,000 Australian jobs.
Victoria is entering its second lockdown since February, painting a grim picture for a recovery in the sector. Industry leaders had already been begging the federal government for a "survival strategy" in anticipation of another entire year awaiting the return of international students in mid-2021. Due to problems with the vaccine rollout and the potential for border closures to extend into 2022 some are expecting the drought to continue into 2022.
Back in November of 2020 the education policy think tank the Mitchell Institute predicted a 50% enrollment decline by mid-2021 should our borders remain closed, a doomsday forecast that has proved correct.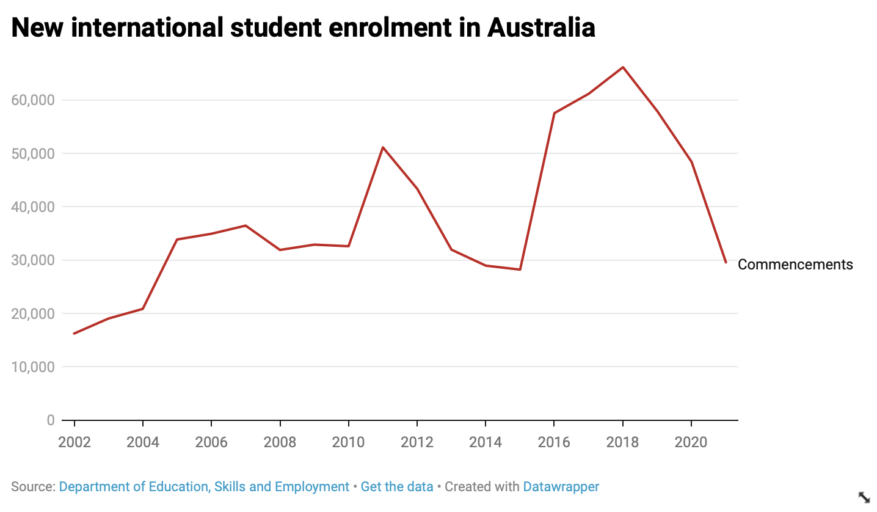 The education related service sectors is in danger of losing more than $20 billion dollars by mid-2022 according to new research at the Mitchell Institute. A 30 April of 2021 article in the SMH claims the sector has already lost $10 billion dollars. The federal government has budgeted $53 million dollars in assistance for private higher education institutes, VET colleges and English language schools. In an effort to help alleviate the effects of border closures, the government is offering $150,000 grants to encourage qualifying institutions and companies to offer more online educational courses allowing international students to get a taste of Australian educational excellence from their home countries.
Give the state in which the sector finds itself, it is surprising to note that the three ASX providers of education related services – IDP Education (IEL); Redhill Education (RDH); and Academies Australasia (AKG) have managed to post positive share price appreciation over the past year.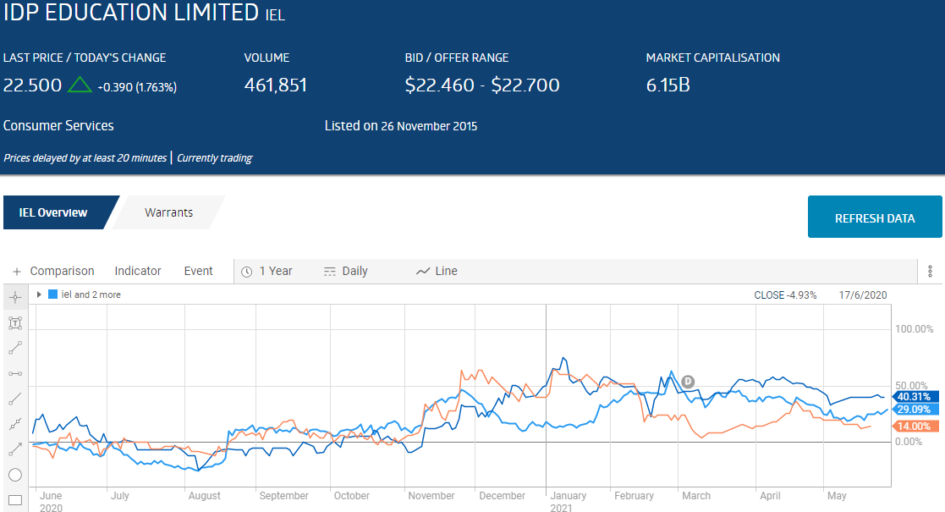 Investors who have followed the sector for awhile will remember a former major player – Navitas Limited – that has been acquired by private equity firm BGH Capital in June of 2019. Navitas is credited with pioneering the now widely followed "pathway programs" model that enables international students to seek educational resources anywhere in the world.
Today IDP is the dominant player and will soon face competition from an upcoming IPO from US based online education provider Keybridge.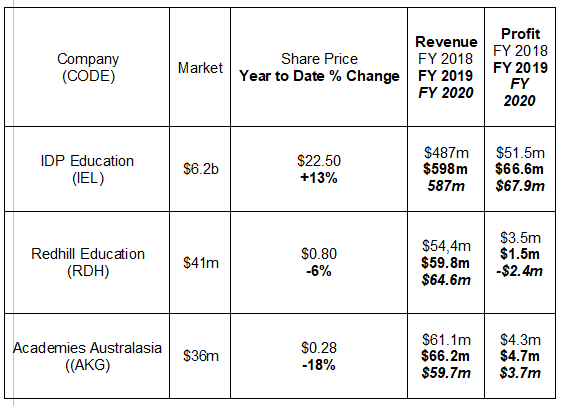 All three report Full Year Results for the fiscal year ending in June, so the financials do not fully reflect the impact of the COVID 19 Pandemic. That changed with the Half Year 2021 Financial Results.
IDP's placement of international students into Australian schools dropped 47%. Revenue fell 26% and NPAT (net profit after tax) was down 45%,
Redhill saw revenue declines of 32% while NPAT rose 1,047%, with the profit rise due to one-off charges in the Half Year 2020.
Academies Australasia' revenues fell 31% while NPAT dropped 32%.
Academies Australasia has campuses in five Australian states and one in Singapore serving about 10,000 students from 132 different countries offering certificates, diplomas, advanced diplomas, as well as bachelor's degree course work.
Redhill Education operates both as a direct educational provider through its own colleges and a recruiter of international students. The company operates the Go Study Australia service with student placement offices in Italy, Spain, France, and South America. Redhill currently recruits more than 3,000 international students per year through the Go Study Australia placement offices, enrolling these students in more than 150 different tertiary education providers across Australia.
The company's Greenwich Colleges provides both ELICOS instruction and certificate and diploma level VET courses, primarily to international students.
IDP Education not only is the largest of the three by market cap but has the most robust business model as well.
The company is primarily a "full service" placement provider for international students, although the company does own and operate English language schools in Cambodia, Thailand, and South Vietnam. The placement service focuses on schools in English language speaking countries with a start to finish approach, from initial guidance counselling to application processing and enrollment to getting ready.
Multiple major analysts have BUY recommendations on the stock, in no small part due to what some would consider the crown jewel of its business model – the IELTS (International English Language Testing System.) IELTS is the most widely used English language proficiency test in use today. Regardless of the entry portal for an international student, they all must receive an adequate score on an approved English language proficiency test to gain entrance to an English language college or university. Rival test TOEFL (Test of Foreign Language Equivalence) was once the highly favored test in the US but IELTS is now generally accepted there as well.
Online Education has been gaining and during the pandemic educational institutions all over the world scrambled to move courses off campus and online. This trend is likely to continue. Although there are other online only educational vendors (EdTech) on the ASX, the newcomer from the US is going to make its debut with a market cap in excess of $770 million dollars.
The company is Keypath, originating in Chicago, Illinois in 2014, with an office opening here in Sydney in 2015. The company uses its technology and data platform – KeypathEDGE — in partnership with 32 universities across North America, Britain, Australia, and Malaysia.
The KeypathEDGE program starts with an Explore phase incorporating the company's proprietary market data with third party data sources. Keypath analysts search for skills and occupations that are driven by industry trends. Social and economic trends driving the future of work are added to the mix.
The company has a proprietary strategic framework called Blueprint that completes the process, which does not end with course creation to fit market trends. The company maintains staffs of Marketing Specialists and Student Enrollment Advisors for recruiting and guiding students through the course and university selection process and prepares them for an online learning experience. Keypath focuses primarily on post graduate students.
Unlike far too many IPO entrants, Keypath Education has a stellar financial track record over the last five years as well as solid growth forecasts.
A 5 May 2021 article appearing on Street Talk in the Australian Financial Review included the following pictogram from Keypath.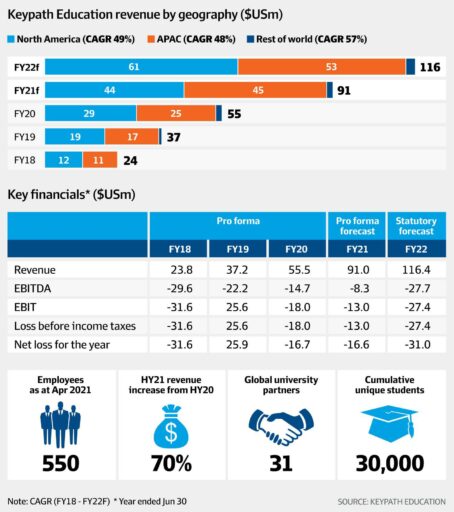 The list of Australian Universities partnering with Keypath Education includes the following:
University of New South Wales

University of Technology Sydney

Deakin University

James Cook University

Victoria University

University of Canberra

Southern Cross University

Royal Melbourne Institute of Technology

Edith Cowan University