When an attractive stock on a retail investor's watchlist hits a 52 week high, the question to answer is will it go higher.
Of the many newcomers to share market investing in the recent past, those who have gone beyond social media to learn how stock markets work have surely encountered a prevailing strategy for stock picking – buy low, sell high.
Most of us love a bargain, but when it comes to stocks there is a strong contrarian view to the buy low argument. The opposite adage is buy high, sell higher.
Investor's Business Daily is a leading financial markets publisher in the United States. IBD's founder, noted investor and author William J. O'Neil, had this to say about the buy low versus buy high controversy in his book How to Make Money in Stocks.
What seems too high and risky to the majority generally goes higher, and what seems low and cheap generally goes lower.
A 2016 article appearing on the web edition of IBD argued the case using Apple as a model. The article was entitled Blast Conventional Wisdom: Buy High, Sell Higher Worked with Apple.
Many supporters of the buy high strategy mix heavy doses of technical analysis into their due diligence, especially the Relative Strength Index. The RSI is a technical indicator of momentum, with readings above 70 (or 80 for purists) indicating the stock is overbought and due for a pullback while readings below 30 or 20 indicate the stock is oversold and due for a bullish uptick. An RSI above 70 or below 30 for an extended period indicates a strong trend. In most financial websites with charting capability investors can add the RSI reading.
From Reuters, the following 5 year price movement chart for Apple includes the RSI readings.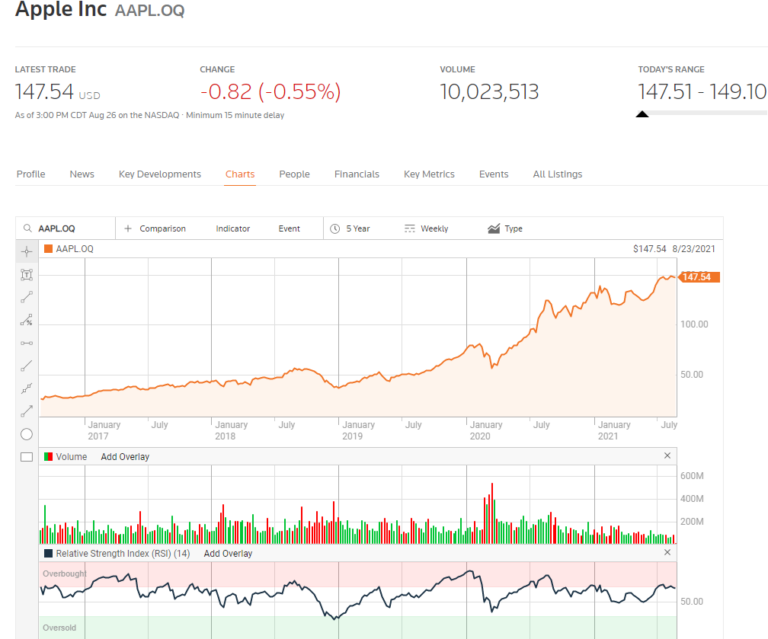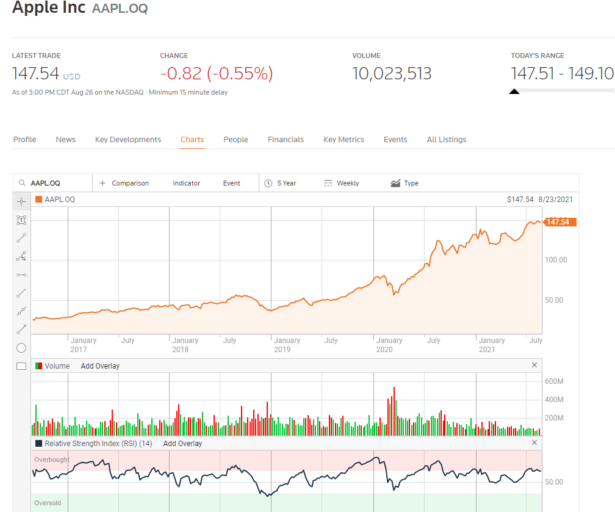 Note the continuing upward trend, interrupted by downturns lasting a few months at worst. Also note in the past five years Apple has entered "oversold" territory only once, and that for a brief period.
The author of the article counsels investors to avoid fearing high-flyers, as long as they show "supreme" relative strength with a compelling growth story remaining in place.
Apple's price performance reflects impressive strength considering its rising share price even in overbought conditions.
One of the ASX WAAAX stocks (Wisetech Global, Afterpay, Altium, Appen, and Xero) recently hit a 52 week high following its earnings release. With the exception of the immediate aftermath of the onset of the COVID 19 Pandemic, the Wisetech Global five year chart bears a striking resemblance to Apple.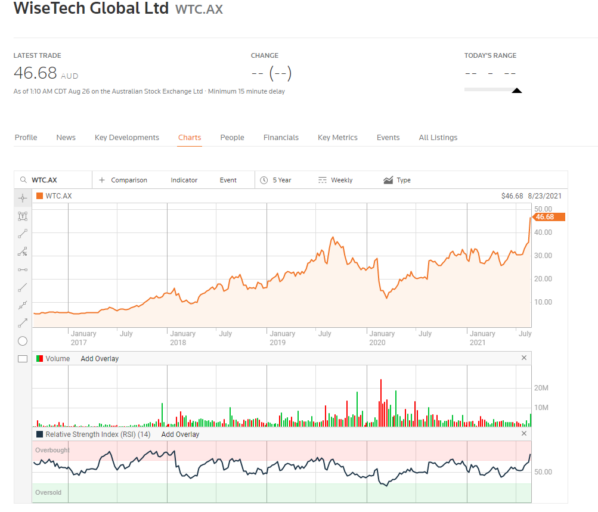 Wisetech Global listed on the ASX five years ago and its stock price has outperformed Apple's over that period.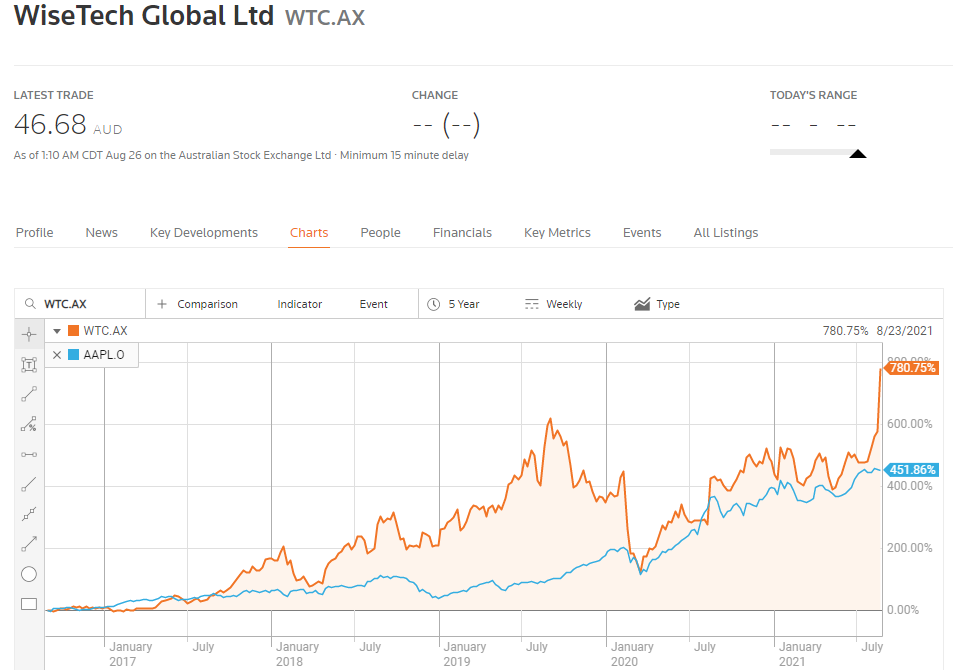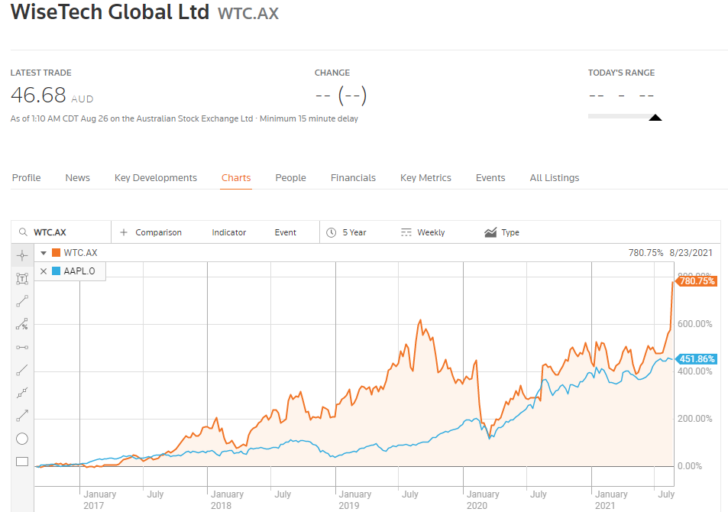 There are other ASX stocks hitting 52 Week Highs in the past weeks that are of interest. With the exception of Orocobre (ORE) whose share price rise is more recent, ProMedicus (PME) –has seen share prices rising over five years, with higher volatility.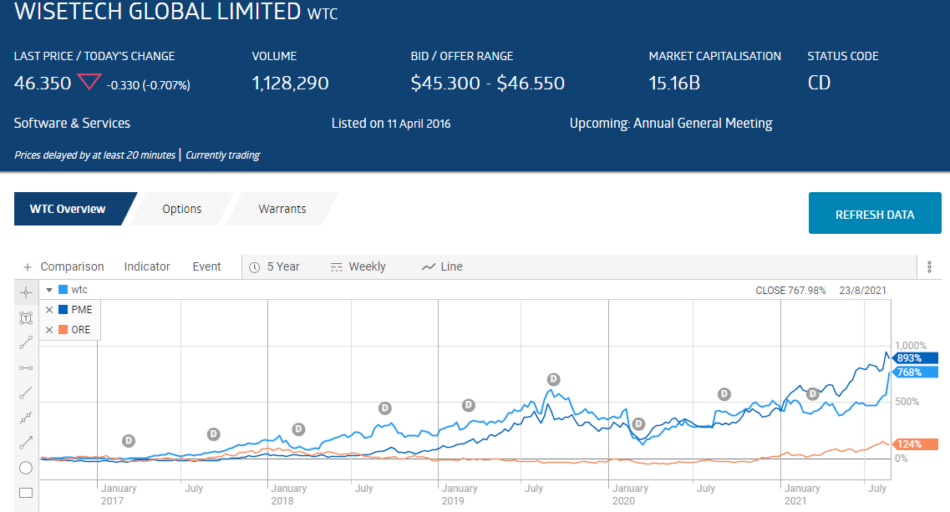 All have seen 52 Week Highs over the past two weeks.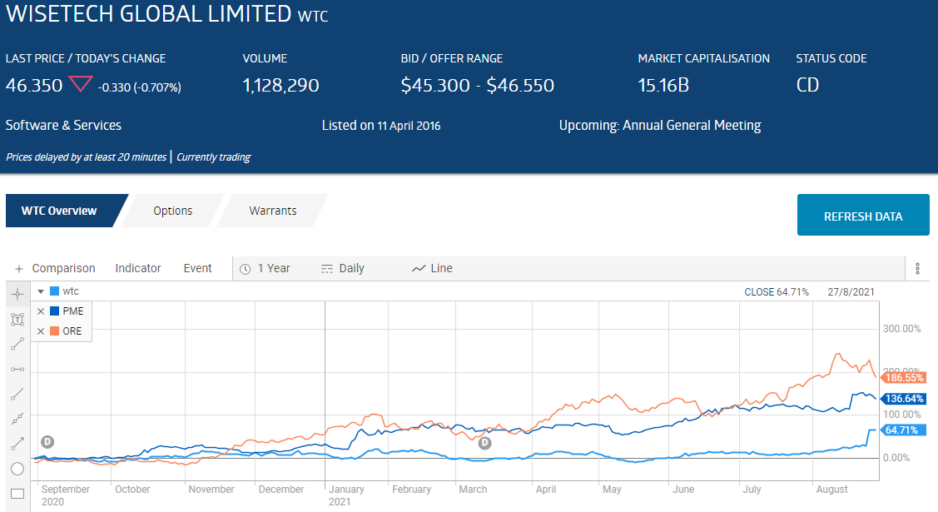 Historical share price performance may be an indicator of a compelling growth story in the past, but the issue for investors considering entering a position in these current highflyers is what of the future.
The following table includes past history — share price performance, historical returns — and future growth estimates for all three of the stocks recently hitting their 52 Week High.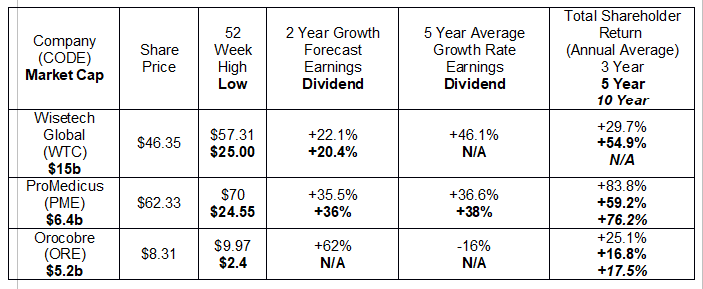 As a major producer of lithium carbonate from brine, Orocobre's growth story is tied to the demand for lithium needed to power the increasing use of lithium ion batteries. The company has producing lithium assets in Argentina along with a borax mine. On 11 August the share price hit an all-time high on approval of the proposed merger with former rival lithium producer Galaxy Resources.
Galaxy produces lithium here in Australia from hard rock concentrations, the other major form of lithium extraction in use today. Both companies suffered from a drop in lithium prices spurred by a "compelling growth story" out of control. Demand for more and better batteries sent miners the world over scurrying to produce lithium, leading to a supply glut.
Although the future appears brighter, a recent cautionary note from Bank of America in the US sent minor shock waves through the sector. Analysts at the bank tagged two of the world's largest lithium producers — Albemarle and Livent — with an underperform rating, citing dropping demand for lithium battery powered home electronic devices and power tools in a post pandemic world and an aura of overhyping the potential for continual upward movement in lithium prices.
However, other industry forecasters cite the positive news out of Tesla as that company plans to expand its network of "supercharger" stations and allow rival EV manufacturers access.
The merger will make Orocobre the fifth largest lithium producer in the world, sporting a new name — Allkem. The company's Full Year 2021 Financial Results showed a 10% increase in revenue. The company's loss of 33.6 cents per share in FY 2021 is expected to rebound to a gain of 3.3 cents per share in FY 2022 followed by a climb to a gain of 21 cents per share by FY 2023.
Pro Medicus has been in the healthcare imaging business since 1983. The company's foothold extends beyond Australia to North America and Europe. The US spends more on healthcare than any other country in the world and since January of 2021 Pro Medicus has delighted investors as the company signed contract after contract with US based healthcare providers, beginning with a massive signing with Intermountain Healthcare, the largest provider in the intermountain states of Utah, Nevada, and Idaho. The contract is a $40 million dollar, seven year deal, a record for Pro Medicus.
In mid-February the company signed another seven year contract valued at $30 million dollars with five healthcare systems in the University of California System – Los Angeles, San Francisco, San Diego, Davis, and Irvine.
In May Pro Medicus signed an eight year, $14 million dollar deal with the University of Vermont Health Network.
In June, the company signed a research collaboration agreement with Mayo Clinic (rated the top research hospital in the US) to further inclusion of AI (artificial intelligence) in Pro Medicus Visage software platforms.
Full Year 2021 Financial Results were exemplary, with revenues up 19.2%; underlying profit before tax ( profit from operations less costs without one off charges) up 41%; and net profit up 33.7%; cash and other financial assets rose 42.4%. The company remains debt-free and managed to increase both revenue and profit in both FY 2020 and FY 2021, despite the pandemic.
Pro Medicus has an outstanding track record of dividend payments with average growth over five years of 38%; 29.1% over ten years; and a two year dividend growth forecast of 36%.
The company's software products and services go beyond the traditional visual imaging of two, three, and four dimensional medical images. Pro Medicus offers a complete management system for radiologists and clinicians, from archiving, to communications, to scheduling, to patient billing – an all-encompassing Radiology Information System (RIS). All products are branded under the Visage name, including a mobile app – Visage Ease — for viewing images stored on a Visage RIS platform.
Wisetech Global provides software services based in the cloud for logistics operators here in Australia and around the world. The core offering — CargoWise One — integrates all functions in a supply chain into a single software platform. With that single platform, CargoWise helps logistics operators manage the process from "origin to destination."
The company claims to have more than 18,000 of the world's largest logistics companies as customers spanning more than 165 countries.
The FY 2021 Financial Results Release saw the share price head for the moon, posting an all-time high of $55 per share, up from the previous day's closing price of $36.29. The share price has fallen slightly since the announcement.
Revenues for the year were up 24% and while statutory net profit fell due to a one off acquisition contingent, the more important indicator of underlying net profit rose 101%.
The company is committed to enhancing its growth long term as evidenced by a research and development (R&D) investment of more than $560 million dollars since 2017, providing more than 4,300 product enhancements.
Wisetech is aggressively pursuing increasing its market penetration. Guidance for FY 2022 calls for between 18% and 25% revenue growth and between 43% and 45% growth in earnings before interest, taxes, depreciation, and amortisation (EBIOTDA).